Welcome to another What I Ate Wednesday. Today marks the end of my so-called summer vacation and the beginning of yet another semester of grad school (I've lost count—all I know is that this is my third fall term).What's especially exciting is that this is the last semester before I start my dietetic internship, and by the time 2012 rolls around, I'll be almost all done with my Masters!
Since I'm taking all night classes this semester, I'm still going to be working from home and able to make breakfast and lunch at home most days. I plan to enjoy it, since my schedule's going to be pretty cray-cray once I'm deep into the clinical and foodservice work and at the hospital 40 hours a week.
Unfortunately, NYC is under a big ol' rain cloud this week, so rather than crisp, clear back-to-school weather, we've got buckets of rain and chilly temperatures. One silver lining is that it's cool enough to wear black tights!
I worked at home during the day and then headed to campus in the late afternoon. I packed an apple just in case I needed something to munch on between classes, but we got out a little early so I just waited until I got home. I've been in sort of a food rut lately, but that's pretty typical of me when the seasons start to change. I figure I'll get into a new groove as the semester goes on.
Breakfast: Oats with apple, chia seeds, cinnamon, ginger, cloves, and sunflower seed butter
Lunch: Kale salad in miso-tahini dressing and a curried tuna salad sandwich (added celery, cinnamon, and cumin this time!)
Pre-Class Snack: Greek yogurt with Puffins and blueberries
Dinner: Leftover red lentil soup from the freezer; an Ezekiel English muffin with tahini
How was your Wednesday? How do your eating habits change (or not change) with the seasons? 
Visit founder Jenn's blog, Peas & Crayons, to see what other bloggers are up to this week.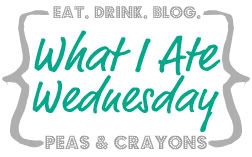 Hungry for more?
Subscribe to get the latest nutrition information, self-care strategies, and healthy living tips delivered right to your inbox.