Happy What I Ate Wednesday. How's your week going?
Today was one of those days where I needed to prioritize chocolate intake. Despite the gorgeous weather and a good morning dose of endorphins, I was a little irritable and out of it. I blame cramps and maybe the fact that my hairdresser found a few grays yesterday. My hair is so light it doesn't really matter, but I'm so used to looking young (just last week I got asked what year I am in high school) it caught me off guard.
I'd always thought I'd feel excited or proud of acquiring my first gray hairs, but um, no. I was more like, "Gray hair? Are you f-ing kidding me?" Guess that's what Biochem class does to you, my friends.
But back to the chocolate. While it would be easy enough to go down to the corner deli and grab a cheap fix, I prefer to find ways to incorporate high-quality cocoa and little touches of the good stuff in healthier ways. Fortunately, by the time I met up with Chris and a few other people for a dinner meeting, I felt human again. Either it was the chocolate or that fifteen minute face-plant nap I took around 5.
Breakfast: Steel-cut oats with chia seeds, cocoa, banana, lots of cinnamon cottage cheese, and roasted figs
Lunch: Red lentil soup and kale salad; a slice of homemade whole wheat chocolate chip banana bread (cannot believe there's no oil—nicely done, mom!)
Snack: Greek yogurt with cocoa powder (in keeping with today's theme), flax, a peach, a chopped roasted fig, and a sprinkle of granola
Dinner (surprisingly chocolate-free): Chris and I shared two seitan entrees at Gobo on the Upper East Side, where we had a meeting with a few other people. 
Snack: Still on a cereal jag—puffins with soymilk 
Visit founder Jenn's blog, Peas & Crayons to see what others bloggers have on their plates this week!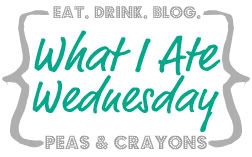 How was your Wednesday? What was the best thing you ate? 
Hungry for more?
Subscribe to get the latest nutrition information, self-care strategies, and healthy living tips delivered right to your inbox.