Happy What I Ate Wednesday. The middle of the week always seems to get here so quickly. How's yours going? I'm doing that thing where I'm trying to fit everything into a few days because I'm heading out of town on Friday.
Last week, I actually sort of had a weekend similar to a real person with a normal work schedule (we'll ignore the part about working a half-shift at the hospital on Sunday). Okay, maybe I did help set up the NYSDA booth for the International Restaurant and Foodservice Show, but I also went to yoga, took a nap, and met up with friends for dinner and karaoke.
To get to the "what I ate part" of of this weekly link-party post, here's what I ate on Saturday.
Breakfast: Apple-pumpkin oats (similar to this except with apple instead of cranberry) in a near-empty peanut butter jar. Perfection.

Lunch: Red lentil soup with hemp seeds on top; a salad on the side.
Snack: Yep, this has become my usual. For how much longer, I can't say. Plain Greek yogurt with coconut flour, cocoa powder (1 tbsp each), cinnamon, and blackberries.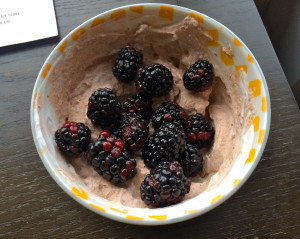 Dinner: I had Korean BBQ with my sister and her boyfriend. We shared some appetizers along with beef and veggies. It was so good. I hadn't had red meat in a while, and I felt all perked up after.
From there, we met some friends for karaoke. I knew I had to work the next day (albeit with a mercifully later start than usual), so I didn't want to drink that much. I had two little pours of this plus a ton of seltzer. All in all, it was probably about one, maybe one-and-a-half shots worth. Hah, big night out right there. We'll pretend I was not the one who sang No Doubt's "Simple Kind of Life." That was totally someone else. So was the person who apparently still knows all the words to "Screaming Infidelities." And "Pretty Fly for A White Guy." Um.
I was hungry when I got home, so I had a sliced banana with some nonfat ricotta when I got home, hoping the potassium would ward off any potential morning headache. Sometimes this works. I also had a glass of Natural Calm, a magnesium supplement powder. I started using it a couple years ago to manage some of the lovely symptoms us ladies have to deal with, and I'm a big believer. I've also found it very soothing for headaches, muscle aches, trouble sleeping, and travel-related GI issues. Not that I do much traveling. Actually, that's apparently changing this year. I'm getting things started by heading to Miami in a few days for a wedding. Is there anything more optimistic than a destination wedding?
To see more WIAW from other bloggers, visit founder Jenn's blog Peas & Crayons.