So wow, somehow it's my 200th What I Ate Wednesday. 200 Wednesdays of sharing my food intake and counting. I don't know if this is impressive or crazy. Maybe both? Looking over almost 4 years worth of these posts (What. The. F—) kind of blew in my mind. Seeing the ways in which your eating habits change and stay the same over time says a lot about the path of your life and the people who come and go—and the influences that stick around. It also says a lot about the improvements in iPhone cameras over the years—at least for me!
A few of the main things I've noticed about my diet in the past four years is that I eat less sugar and more animal protein. Tofurkey sausage is no longer a regular thing, but oatmeal, salads and yogurt are still some of my staples. I will never be over soup. Egg whites are a more recent favorite, but peanut butter has pretty much always been on the shopping list.
For the hell of it, here are a few examples of previous What I Ate Wednesday posts:
And here we are, February 2015, Mercury Retrograde What I Ate Wednesday—perfect time for reflecting on the past & present, what the future might look like. Here's what I ate Monday, when I was working from home. It was a dreary day, so I was inside a lot, but also really active, between some fiction-reading on the elliptical, yoga, cleaning, and food prep for the week. I felt a lot hungrier than normal—surprise, surprise. Here's what was on the menu.
Breakfast: Oatmeal made with ground flax, egg white, cinnamon, vanilla, and half a mutsu apple (from Farmigo—so good!). I added a little fig butter and chia-flax peanut butter.
Lunch: A big arugula salad that had some roasted pepper, cauliflower, and kabocha in it, along with hemp seeds and a hard-boiled egg. I also had a slice of Ezekiel toast with hummus and thin-sliced roasted eggplant. The only thing I thought to take a picture of was this miso mushroom soup I had just made. Recipe tk…
Snacks: Later in the afternoon, I had the other half of the apple from breakfast. A few hours after that, I had some plain Greek yogurt with 1 tbsp each coconut flour and cocoa powder. I threw a handful of blackberries on top.
Dinner: I actually made this whole wheat spaghetti with brussels sprouts, bacon, and a poached egg on top. Pardon the recycled photo. The only difference was that I used shredded sprouts this time, and I think that will be how I make this from now on.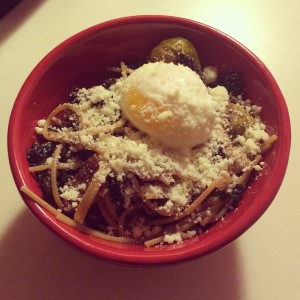 There was also a small glass of pinot noir. Nothing before bed, as dinner was really late.
How have your eating habits changed over the years?
To see more WIAW from other bloggers, visit founder Jenn's blog Peas & Crayons.