…And suddenly it's  (What I Ate) Wednesday again.I wasn't shadowing today, so I took the opportunity to run errands and catch up on the work I've had to shelve the rest of the week. One great thing about freelancing is you can set your own schedule, but working until late at night or getting up extra early to make time can be a drag. I'm so glad all my classes this fall are night classes. Haha I say that now…
I can't decide if this is a good thing or a bad thing, but on the days I work at home, I get a lot of cooking done. It's a great thing to do when I'm procrastinating brainstorming. For example, after hitting a wall with a book review I'm working on, I decided to make Chris these crispy roasted zucchini slices he likes. I was tempted to make a sandwich for dinner, but I took a little more time and made one of my old favorites.
I found I was more hungry than normal today. I blame PMS and the new workouts I've started (probably more so PMS, though!). I'm definitely that person with my iPhone at the gym watching videos of how the various moves are done, but I'd rather use good form than risk getting injured due to sloppiness. Carelessness is a mistake I've made in the past, and I like to think I've learned from that.
Tomorrow and Friday are early mornings (let's not talk about my ass-crack-of-dawn travel plans for Saturday), so I'm planning to hit the hay relatively early. I got a lot done today, which makes me feel better going into the rest of this busy week and a weekend of traveling, hurricane be damned.
Breakfast: Oats with chopped apple, spices, chia seeds, and sunflower seed butter
Lunch: Giant salad and the last of the chocolate chocolate-chip zucchini bread 
Snack: Greek yogurt with flax, berries, a peach, and a sprinkle of granola
Dinner: Butter beans in spicy red sauce with olives and goat cheese over brown rice; sauteed zucchini, leftover roasted cauliflower
Snack: Puffins cereal with soymilk and a little sunflower seed butter. Not sure how I feel about the nut butter & cereal thing, but glad I tried it
Hope you had a great Wednesday. What was the best thing you ate? 
Mosey on over to Peas & Crayons to see what's on other bloggers' plates.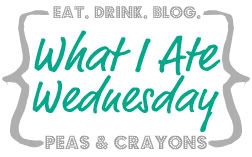 Hungry for more?
Subscribe to get the latest nutrition information, self-care strategies, and healthy living tips delivered right to your inbox.