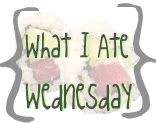 Happy Thursday!
So after thinking it over, I'll be continuing to feature a What-I-Ate-Wednesday post each week. Cheers to Jenn for thinking up such an interesting series. It actually motivated me to be a little more creative this time around. It also helped that this Wednesday was a lot less hectic than most Wednesdays! I didn't have to be at the clinic until late and ended up getting out early, so I had time to stop at home for a snack and a costume change and run some errands before class.
Breakfast: Oats with chia seeds, a chopped apple, cinnamon, ginger, cloves, vanilla, and almond butter. A massive cup of tea.
Lunch: A giant salad (there's a lot of good stuff hiding in there) in miso-tahini dressing and an Ezekiel English muffin with hummus. 
Snack: Plain yogurt with pumpkin, ground flax, a sprinkle of granola, cinnamon, and a little maple syrup.
Dinner: Leftover jumbalaya rice with chopped seitan and tomato sauce; leftover vegan broccoli soup on the side. 
Snack: 1/2 cup chocolate ice cream (Whole Foods brand=awesome) with a thin mint cookie
Hungry for more?
Subscribe to get the latest nutrition information, self-care strategies, and healthy living tips delivered right to your inbox.