Happy What I Ate Wednesday. Somehow it's Christmas Eve. I'm out visiting the fam for a few days and soaking lots of time with my favorite little dude.
Because I knew this week was going to be crazy, I snapped pictures of my food on Saturday to share for this week's link-party.
Saturday ended up being another clinical day, as I got asked to come in and cover for someone who was sick. I worked it out to come in late, though, so I could have some writing/editing time in the morning. The day ended up passing really quickly. Then I went home and did more editing until I fell into bed. I'm such a cool kid. And by that, I mean workaholic spinster. I tell myself this is temporary because I've been busy "building things." Priorities, you know?
In lieu of a witty segue, here's a look at what I ate Saturday:
Breakfast: Savory oats topped with roasted veggies, a little goat cheese, and tahini. I also drank, like, a quart of coffee throughout the morning. As usual…
Lunch: Arugula salad with lots of roasted veggies, 1 hard-boiled egg and 1 white, hummus mixed with pumpkin & goat cheese; an apple
Afternoon Snack: 1 container of Siggi's vanilla yogurt with chia seeds
Dinner: Red lentil soup made with this great smoky eggplant tomato sauce from City Saucery and toast with hummus & roasted eggplant. Can you tell I was trying to use up what's in my fridge before going out of town? 
I had a piece of chocolate for dessert. 
Bedtime Snack: A sliced banana with non-fat ricotta and maple syrup (~1/2 tsp) 
What I lacked in weekend-ness Saturday, I totally made up for on Sunday, when my mom and I went out for lunch and Christmas shopping. I had this delicious omelet at Ouest as part of their prix-fixe brunch: egg whites with mushrooms, goat cheese, and caramelized onions—so many of my favorite things packed into one meal. It was great fuel for an afternoon of walking around town in search of last-minute gifts. Mission accomplished.
To see more WIAW from other bloggers, visit founder Jenn's blog Peas & Crayons.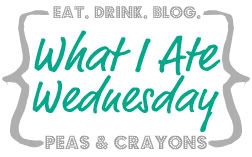 Hungry for more?
Subscribe to get the latest nutrition information, self-care strategies, and healthy living tips delivered right to your inbox.