Happy What I Ate Wednesday. How's your week going? And how is it December f-ing 17th? I have holiday crazy I need to fit in around the usual crazy, so let's get right into the voyeur-tastic link-party food pics, mmkay?
I've got another weekend WIAW for you guys. Saturday was crazy-busy at the hospital, though it didn't even begin to compare to Sunday, when I was alone and covering the whole house because the RD called in sick. It all worked out okay, though. Of course, I cannot tell the future, so I just thought it was a  busy Saturday.
I'm not totally sure what it was, but when I woke up in the middle of the night Friday, I couldn't get back to sleep because my mind was racing. So I did what any normal crazy person would do and got out of bed to work on the projects that were nagging at me. I blasted No Doubt's Return of Saturn in hopes that the time warp might actually give me the energy of a 16-year-old for whome all-nighters are NBD. What the hell ever happened to my stamina?  Four first drafts later, I collapsed into bed for a couple more hours of shut-eye. 4 hours is way better than none.
Anyway, the quick pace of Saturday was actually good because it kept me awake but wore me out enough that I was able to fall asleep easily (and early!) that night. Here's what I ate to get me through the day:
Breakfast: Zucchini bread oatmeal with peanut butter, coffee.
Lunch: Arugula salad with roasted veggies, tuna, and olives. I had some dry-roasted edamame a few hours later. More coffee.

Snack: A sliced apple and a cup of golden milk. 

Dinner: Steamed kale with roasted Brussels sprouts, a Dr. Praeger's Sweet potato pancake, and a cranberry & sausage from a farm-to-table company in Ithaca called The Piggery I was introduced to through Farmigo—love their stuff. 

Snack: A sliced banana served with a little dip I made from yogurt and coconut flour + a few chocolate chips. I make weird stuff when I'm exhausted.
To see more WIAW from other bloggers, visit founder Jenn's blog Peas & Crayons.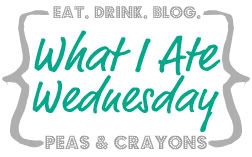 What do you do when you can't sleep? Do you eat weird stuff when you're tired?  
Hungry for more?
Subscribe to get the latest nutrition information, self-care strategies, and healthy living tips delivered right to your inbox.