Happy What I Ate Wednesday. How's your week going? This week is crazy-busy, but for better or worse, even the work doesn't feel like work. Good thing, since I've got a lot of it on my plate right now…Luckily, I was not working at the hospital this past weekend, so I had a chance to catch up on both work and life. I also celebrated my birthday again. I'm a lucky gal. Here's what Saturday looked like.
Breakfast was an egg white scramble with lots of veggies. 
A few hours later I had an apple before running out to meet a friend for yoga. 
After yoga, we ate lunch in the cafe at the studio. I ordered the "yogi's choice" and selected steamed kale, grilled portobellos, and spicy tempeh. I opted for the turmeric tahini dressing, which was lovely.
I spent the afternoon in the writing cave but took a break partway through for a snack of Greek yogurt with some cereal. 
Then I met up with friends for what I think is official the last birthday dinner for me this year. We went to Gallo Nero in Hells Kitchen, and I ordered the salmon, which came with sautéed spinach and cabbage in a balsamic reduction. I also drank a glass-and-a-half of red wine. I'm all about primitivo lately. 
Unfortunately, my alcohol tolerance is not what I wish it was, and I felt a little buzzy before bed. I drank a glass of water and ate a sliced banana with a tiny bit of peanut butter. This is basically my "hope I don't wake up with a wine-headache" snack. It's also a good snack when I haven't more wine than my body needs, but I tell myself the potassium, B-vitamins, and tryptophan help with the whole headache/weird sleep/hangover thing. Mixed success. I woke up feeling pretty good, but a bit earlier than I'd have liked the next morning.
So it goes. All it all, it was a lovely day spent with people I wish I saw more of.
What do you eat when you're accidentally half-drunk? 
To see more WIAW from other bloggers, visit founder Jenn's blog Peas & Crayons.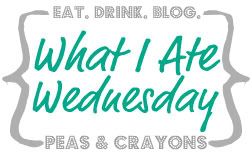 Hungry for more?
Subscribe to get the latest nutrition information, self-care strategies, and healthy living tips delivered right to your inbox.