Happy What I Ate Wednesday. How's your first week of December going? Feeling festive yet or still full from Thanksgiving? One holiday down, only another too many to go…I kid, I kid. I actually had a great time with my family at this year's Thanksgiving. The food was pretty great too. For today's link-up party, let's have a look-see, shall we?
I started the morning with some leftovers from Wednesday night's dinner, which was roasted chicken, veggies, and a chickpea dish. Partway through the day I had a yogurt with ground flax. I love that Siggi's yogurts have tons of flavor without being too sweet.
Thanksgiving dinner was delicious. My mom got the most gorgeous turkey from Farmigo and then brined it for 3 days in buttermilk. It was so tender and delicious that there were barely any leftovers that remained after all the relatives had made up their care packages to take home. We got to keep the carcass, though, and enjoy some amazing turkey soup the next day, so there.  Along with my turkey on Thursday, I also enjoyed a bunch of roasted veggies and a taste of the sausage stuffing. I'm boring in that the turkey is my favorite part of Thanksgiving, so I'm not too sentimental about the sides.
For dessert, I had a little of a hot fudge cake my sister made and topped it with a little ice cream and whipped cream. Serving dessert in a cute, tiny cup made it feel really fancy and nice without leaving me too full after. Haha I probably could have eaten more, as I got hungry after everyone left and ended up eating a banana with peanut butter before bed.
I never understood when new moms talked about losing weight because they were running around after their kids so much, but I totally get it now—every ten seconds practically I was up doing something with Eli. Of course, Eli is a dog and not a toddler, but for people like me who will probably need to register for a new hip instead of a standing mixer/Vitamix if/when we eventually get married, it's the same basic thing. This little ball of fluff is kind of my whole world. #sorrynotsorry
The best part of my Thanksgiving was hanging out with my family and especially with Eli. Mr. Social loved having a house full of people. Apologies to anyone who follows me on social media and was inundated with fluffy white dog pics. I just can't help myself. I love him so much and don't see him as much as I'd like, so I just go nuts when I am with him. My grandfather has met Eli many times, but because his Alzheimer's has begun to progress, every time they meet he thinks it's the first time. Though it's sad on one note, seeing them together and watching my grandfather get acquainted with his new little friend is so sweet. 
I didn't do the Black Friday thing last year, but this year my mom, aunt, and I met up at Kohl's Friday morning. I got some Christmas shopping done and also picked out a few little things for myself. Very satisfying.
What was your favorite part (food or otherwise) about Thanksgiving this year? 
To see more WIAW from other bloggers, visit founder Jenn's blog Peas & Crayons.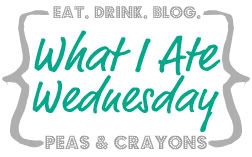 Hungry for more?
Subscribe to get the latest nutrition information, self-care strategies, and healthy living tips delivered right to your inbox.