Another week, another What I Ate Wednesday. For all my peeps in the US—can you believe it's already Thanksgiving mweek? You are probably sick of hearing people saying this, but wow. Time is going too f-ing fast.
Here's what I ate Monday as I was looking ahead to holiday travel with an eye toward cleaning out the fridge. It was technically a day off, but I had so much writing I needed to get squared away, it was more of a work-from-home day with a side of laundry and yoga.
Breakfast: Cranberry Pumpkin Oats in a Jar—best way ever to use up an almost-empty jar of PB. 
Lunch was at Souen in Union Square. I didn't take any photos because my dining companion did not know I have a blog, and nothing says Hello How Are You like "I'm going to interrupt the flow and take a picture of my food now." Anyway, I ordered the Squash Tofu, if only for the miso-tahini sauce. It was delicious. I forget sometimes that I  love tofu, especially when it comes with perfectly steamed veggies in a bath of miso tahini soup sauce.
Then it was back to the writing cave. I took a break for a snack around 4:30. I enjoyed some Greek yogurt with ground flax, cinnamon, a chopped dried fig, and a drizzle of maple syrup (1/4 tsp goes a long way). I also added the last pinch of some roasted coconut flakes that was left in the bag.
For dinner, I used up a bunch of stuff in the fridge…This ended up being lentils with kale, roasted veggies, and egg whites plus tahini and goat cheese. It was really good for being ugly. 
Before bed I had a quick snack of sliced banana with non-fat ricotta that I mixed with some cocoa and a little stevia. Mostly, I wanted to see how it would taste—really good, actually. 
So that just about sums up one of the ugliest days of food I think I have ever documented. Cheers to cleaning out the fridge before Thanksgiving travel.
What are some of the strangest concoctions you've eaten in an attempt to use up food before going away? 
To see more WIAW from other bloggers, visit founder Jenn's blog Peas & Crayons.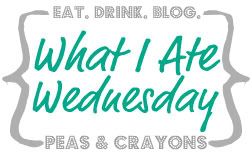 Hungry for more?
Subscribe to get the latest nutrition information, self-care strategies, and healthy living tips delivered right to your inbox.