Welcome to the latest installment What I Ate Wednesday. For more about the series, visit found Jenn's blog, Peas & Crayons.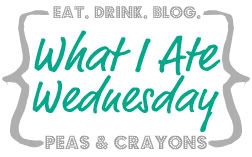 Today was all about catching up on work at home and running errands. After a really productive morning, I took myself on a shoe-shopping adventure. The first stop was traumatic and left me almost in tears (nothing fit, everything was ugly and expensive), but then I went to Easy Spirit and found a few things I actually could live with.
They're not particularly sexy, but under bootcut pants they'll be fine—and comfortable. The heels are ridiculously comfy too, which will be great for all those September weddings…
Since I worked from home today, I didn't have to worry about packing anything. I know it was, like, 86 degrees in New York today, but I'm kind of obsessed with the red lentil soup I made yesterday. It has roasted butternut squash, apples, and caramelized shallots in it!
After shoe-shopping, the afternoon was spent doing more work and making a seitan log. I was on my own for dinner, so I tried something I knew Chris would veto—cottage cheese in pasta. It tasted really good, but it wasn't mind-blowing.
I can't decide if I'm shocked it's already Wednesday or shocked that it's only Wednesday. Either way, I know I'm looking forward to Thursday—I have a movie date with my friend Liz. We're going to see The Help. Has anyone seen it yet?
The "What I Ate" part of this Wednesday:
Breakfast: Plain yogurt with flax, a peach, berries, granola, and a drizzle of sunflower seed butter
Lunch: Massaged kale salad with roasted cauliflower; red lentil soup; toast for dipping
Snack:  Shredded wheat with soymilk and berries
Dinner: Whole wheat penne with broccoli, spinach, seitan, tons of garlic, ~1/4 c cottage cheese, and grated parm.
Snack: Chocolate banana softserve with a chopped roasted fig and a crumbled chocolate-chip cookie date ball. 
Hope your Wednesday was a great one!
What was the best thing you ate? What's your favorite weird pasta topping? 
Hungry for more?
Subscribe to get the latest nutrition information, self-care strategies, and healthy living tips delivered right to your inbox.