Happy What I Ate Wednesday! How's your week going so far? Congrats to any of my readers who completed the NYC Marathon this past weekend. I worked Wednesday through Sunday at the hospital, so it was business as usual (or as close to "usual" as I get) for me. Here's what I ate on Saturday, which was rainy and a busy, but I enjoyed great meals and snacks to keep my energy up throughout the day. 
Breakfast was some of this pumpkin "cheesecake" parfait with some cereal for crunch and homemade cranberry sauce.
For lunch, I had steamed baby kale with roasted veggies, chicken sausage, and a bit of herbed feta. For lunch "dessert" I had a gorgeous apple from my recent Farmigo order.
Before leaving for the day I had some 0% Plain Greek yogurt with a Fiberlove bar crumbled on top.
I ran home for about ten minutes to drop my stuff off and headed to my friend's post-Halloween get-together. I was still really full from my afternoon snack, so I just had a cup of red wine and nibbled a few carrots. Not great timing on my part, but oh well. I guess that's what happens when you're up at 5 a.m. on a Saturday. 
By the time I got home I was hungry for real and in need of something comforting. I made savory oatmeal with pumpkin, flax, and egg white cooked in and topped it with roasted cauliflower, caramelized onion, tahini, and another spoonful of that herbed feta. 
I also had a piece of this great chocolate.
Before bed I had a sliced banana with a little (~1/2 tbsp) of peanut butter. I tell myself the magnesium, potassium, tryptophan, and vitamin B 6 help me sleep.
What do you eat when you need something comforting?
To see more WIAW from other bloggers, visit founder Jenn's blog Peas & Crayons.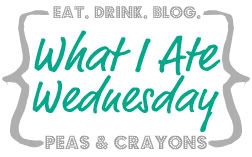 Hungry for more?
Subscribe to get the latest nutrition information, self-care strategies, and healthy living tips delivered right to your inbox.