I don't know about you, but I can't believe it's Wednesday already. I feel like I've been doing a lot of work-related What I Ate Wednesday posts lately, but this week's installment actually features some meals with friends, family and not consisting entirely of items purchased from Trader Joe's (gasp).
Saturday started early and ended late. Breakfast and lunch were fairly standard desk-meal items: pumpkin cheesecake dip with cereal for crunch and a warm kale salad later on that had leftover grass-fed steak from the farmer's market (!) and miso-tahini dressing. I munched on an apple for lunch "dessert" and to give me some carbs to balance out the meal. I made the mistake (if a genius one) of taking a two-hour nap after my shift so I could make it through a coffee date and late dinner with a friend visiting from out of town. Because I always wake up ravenous after long naps, a Greek yogurt mess was basically inevitable. Between Point A and Point B of my evening plans, I had a glass of wine at a Hells Kitchen wine bar and chatted with the bartender about puppies. It was kind of a perfect evening.
Sunday I had brunch plans (aka lunch where you top things with eggs and can drink booze if you like) with the fam, but of course woke up early and hungry. I made a bowl of savory oats with leftover roasted veggies and egg whites to tide me over after a little gym & laundry action. By the time my parents, sister, and I met up with my cousin and his wife at Barrio47, though, I was freaking starving again. I ordered the shakshuka and was not disappointed. I'd never had it with burratta cheese in it, and it was fan-f***ing-tastic. Instead of booze, we all had coffee drinks.
I was pleasantly surprised at how long my meal held me over, but I was more than ready to dig into a bowl of (more) leftover roasted veggies with pumpkin-spice roasted chickpeas (toss chickpeas with pumpkin pie spice & a teaspoon of olive oil, bake until crispy) over parsnip puree. It held me over pretty well through an event, though I definitely was ready to eat a little something before bed. Once again: a sliced banana with peanut butter. It's just too easy…
What's your favorite brunch dish? 
To see more WIAW from other bloggers, visit founder Jenn's blog Peas & Crayons.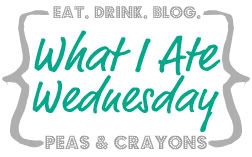 Hungry for more?
Subscribe to get the latest nutrition information, self-care strategies, and healthy living tips delivered right to your inbox.