Welcome to yet another What I Ate Wednesday. For those new to the party, every week, I link up with a bunch of other bloggers to share a day of food. Here's a look at what I enjoyed this past Sunday, which I spent working at the hospital.
(Eli was at the beach with my family. Dude is living the life.) 
In general, working the weekend has some benefits in that it's quieter and easy to get work done. Sometimes I even take my full lunch break. People tend to be more laid back so it's a nice chance to chat a little more than you normally might. That said, sometimes it can be rough when your friends are posting pictures from brunch and you're, like, "F*** you and your challah French toast." Or, "Man, why I am I at work instead of brunching on breakfast tacos with my handsome (if imaginary) boyfriend?" Then I usually remind myself that I'm not exactly a taco enthusiast. I'm more of a shakshukah kinda gal when it comes to brunch. Move on.
I always try to pack myself things I like and enjoy eating to keep me energized, focused, and positive. Being hungry leads to a cranky weekend workday with "woe is me" undertones. Here's what I packed on Sunday:
Breakfast: A Greek yogurt mess. I've transitioned to using frozen berries. Fall is here for real. 
Lunch: I warmed up some kale with lots of roasted veggies and chickpeas. I added hummus & goat cheese. 
Snack: This Kevita drink I'm loving lately and an apple. 
When I got home, I had a quick bowl of kefir and cereal before heading out on a walk. The ol' horoscope said that single folks should be out and about, and since I was having one of those "I like my outfit" days, enjoying what was left of the crisp, fall afternoon sounded exactly right. My knee-jerk thought had been to park myself in front of a glass of wine, but I wasn't in the mood to play "totally not awkward" in a bar by myself when the weather was so gorgeous. It was nice to spend some time outside—great way to unwind after being inside most of the day. 
While I was out, I stopped and grabbed a cup of my favorite tea from Alice's. I love that it's hot tea weather again.
Dinner was just leftovers from Saturday night:
I'm totally digging this Trader Joe's pumpkin ravioli—great with shredded brussel sprouts and a little bacon. It came together really quickly after yoga on Saturday night. Yes, I am totally that dietitian who eats bacon after yoga. Balance, right there. Hah.
Before bed Sunday night, I had a sliced banana with peanut butter. This seems to be an official food jag. I'm sure I'll switch it up once given a reason. Can Trader Joe's bring back their Chocolate cheddar, like, yesterday, please? Miss that.
What's the best thing you've eaten recently? 
To see more WIAW from other bloggers, visit founder Jenn's blog Peas & Crayons.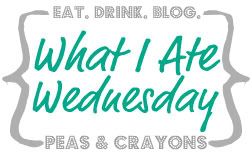 Hungry for more?
Subscribe to get the latest nutrition information, self-care strategies, and healthy living tips delivered right to your inbox.