Welcome to yet another What I Ate Wednesday. For those new to the party, every week, I link up with a bunch of other bloggers to share a day of food. Here's a look at what I enjoyed this part weekend while spending time with my family.
Friday, I went out to New Jersey to spend the night and get in some snuggles with my little dude. He's seriously living the life, though—any guilt I had was dissolved as soon as I saw how happy he is. He's totally loving the built-in play dates.
Saturday I woke up early to take Eli out for a walk and then worked out in the basement. I was so freaking hungry by the time I was done. I made short order of this yogurt mess. This was plain Greek yogurt, chia seeds, ground flax, cinnamon, a spoonful of oats, strawberries, and a little peanut butter.
I had a bowl of my mom's homemade chicken soup for lunch both Friday and Saturday—it was that good. I added some arugula for a little extra green.
Friday afternoon we took a trip to Fairway to pick up some ingredients. Somehow, this chocolate found its way into our cart…
I snacked on yogurt to get me from lunch to dinner both days too. I polished off all the expired Fage. Yogurt totally gets better with age…
Friday night we cooked at home—chicken with mushrooms and arugula salad with figs and chocolate goat cheese.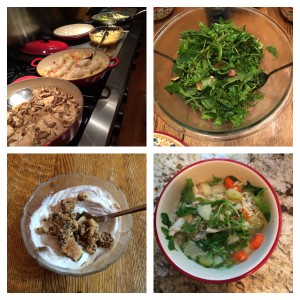 Saturday, we went to Angelo's in Little Italy to celebrate my dad's birthday. I ordered the calamari and shrimp in spicy tomato. Though I made a good dent in this, I still went home with plenty of leftovers for the next night.
I had to work the next day, so I took a cab home while my family walked around the city a bit more. Lights-out came pretty quickly, but not before eating a sliced pear (one of the cute tiny ones from the farmers' market) with a tsp of peanut butter.
What was the best thing you ate this past weekend?
To see more WIAW from other bloggers, visit founder Jenn's blog Peas & Crayons.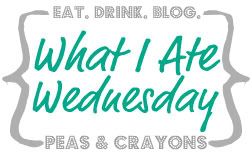 Hungry for more?
Subscribe to get the latest nutrition information, self-care strategies, and healthy living tips delivered right to your inbox.