Thank you to everyone who commented on Sunday's post. In a sense, I feel I've been sleep-walking, but somehow it's What I Ate Wednesday again. For those new to the party, every Wednesday, I link up with a bunch of other bloggers to share a day of food. Here's a look at my weekend. To distract myself from worrying about the pup, I took lots of photos and made a little extra effort to make sure that every meal and snack was something I really enjoy. A little self-love goes a long way. So here's a sampling of what was on the menu:
Breakfast: A spinach and feta wrap from feta and a black Americano from Starbucks hit the spot while I screened all the patient floors Saturday morning.
Lunch: I had a salad for lunch Saturday and Sunday. Greens + Roasted Veggies + Grilled Chicken is one of my favorite combos. I added some eggplant dip with goat cheese on the side instead of dressing. 
Snacks: Pink Lady apples, dry-roasted edamame kept me going during my shifts at the hospital. Saturday afternoon I enjoyed some pumpkin cheesecake dip with roasted figs and raspberry jam after I got home from visiting Eli at the vet and cleaning the hell out of my apartment. 
Sunday I walked home most of the way after the bus driver said that if we wanted to get across town in under two hours, we should make the journey on foot. In an effort to clean out the fridge/freezer, I made a quick smoothie of plain kefir, cocoa powder, 1/2 a frozen banana, xanthan gum, and ice. It was great topped with a spoonful of granola and some coconut chips. 
Dinner: Saturday night my parents took me to see This Is Where I Leave You, and we went to Ocean Grill afterwards. I drank too much prosecco on purpose and ate some salad and sushi and some grilled branzino. This blurry picture looks a little like an "I'm not so sure about this" face. Sunday I ate some pumpkin-and-butternut squash risotto my mom had made. 
By Sunday night, I just wanted to pass the f*** out and not think about things like pet insurance or what-if scenarios or lab values, so I started binging on Orange is the New Black instead.
What do you eat when you're stressed?
To see more WIAW from other bloggers, visit founder Jenn's blog Peas & Crayons.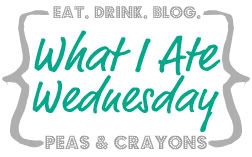 Hungry for more?
Subscribe to get the latest nutrition information, self-care strategies, and healthy living tips delivered right to your inbox.