Happy What I Ate Wednesday! I'm traveling a lot this week—I'm currently in Boston and then headed to Colorado on Friday—so things are a little different. To learn more about the WIAW series and read other bloggers' posts, visit founder Jenn's blog, Peas & Crayons.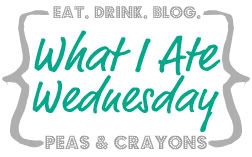 I decided to shake things up a bit this week and blog about Tuesday's food—both the at-home and the in-transit. In the early afternoon, I hopped a bus to Boston for the National Poetry Slam.  A lot of old friends are performing and hanging out, so why not come up for a few days to see some old faces and maybe a few poetry slams while I'm at it? 
I'm staying with Chris' mom not far from where all the events are going on, so it was a cinch getting in touch with a few friends when I rolled into town.
After dinner and drinks, we headed to the Lizard Lounge for the late bout. I used to go to their Sunday night open mic when I lived in the area sometimes, and it's still one of my favorite venues. If you're in Cambridge/Somerville and ever want to read your poetry backed by an improv jazz trio, definitely check it out. Here's an old, old picture of me doing just that.
Haha seems like another life. Anyway…It was fun to watch teams from other parts of the country perform their work. I don't get to do that too often. I didn't end up going to any of the after-events because I was really worn out from traveling, but we'll see about tonight.
The "what I ate" part of this Wednesday Tuesday  was pretty basic but good. When my schedule works out, I like to bring a big salad or something equally filling and nutrient-dense to eat for lunch on the bus. It takes forever to eat and keeps me full for a long time so I'm not cranky and starving when I reach my destination.  Sometimes eating while traveling can be tricky, but a little planning ahead goes a long way.
Breakfast: Yogurt overnight oats with berries, a peach, granola, and a drizzle of sunflower seed butter. 
Lunch eaten on the bus: A giant salad with spinach, tomato, carrots, kidney beans, banana peppers and avocado; bread on the side
Bus snack: a granny smith apple (unpictured)
Dinner: A beer and a veggie burger 
Hope your Wednesday is a great one! What's on your plate for the day? 
Hungry for more?
Subscribe to get the latest nutrition information, self-care strategies, and healthy living tips delivered right to your inbox.