Happy What I Ate Wednesday. For those new to the party, every Wednesday, I link up with a bunch of other bloggers to share a day of food. Voyeuristic, yes, but also fun—if you're into that kind of thing.
After working Saturday at the hospital and passing out embarrassing early that night, I actually did weekend-ish things on Sunday, when my mom came into the city for brunch! I've been happy to able to spend a little extra time with my folks lately. To be honest, though, in my family, brunch = lunch because we are all such early risers.
Case in point: These oats-in-a-jar I enjoyed for breakfast after taking the dog out for his second walk around 7:30. By this point, I'd already been to the gym and done the laundry. I say this not to brag about my mad productivity but more to illustrate the fact that once the pup starts licking my face at 4:45 a.m., I'm up for the day because my inner clock thinks I'm a farmer or something. I've never been good at going back to bed in the morning anyway. I've adapted pretty well to this ridiculous wakeup time, but I do sometimes wonder/freak out in the manner of "OMG is this forever?" Somehow, it hurts a lot less when I know there is tasty breakfast to be had. Pros & cons.
Anyway, my mom is my hero for arriving armed with iced coffee. After walking around a bit, we stopped in at Spring Street Natural. I'd never been here for brunch, but after our meal, I would definitely come back for it. Maybe one day when I have a need for a good brunch-date spot*…
We both got the Spring Garden Omelet with egg whites, which came with potatoes. We also shared a side of greens and some bacon because I am that person who eats egg whites and bacon. Priorities, you know? 
We also enjoyed watermelon mimosas. I loved that these were made with fresh watermelon juice rather than eau de Jolly Rancher. 
After brunch/lunch, we walked around, buying a bunch of squash and apples at the farmer's market and poking around the flea market. We also stocked up on birthday and wedding cards at Papyrus. Dear Friends: Please start reproducing so I can buy you these: 
*Speaking of married friends, maybe the universe should send me a gentleman friend who works with, like, bread or pastries or some other food thing that requires one to wake up at the ass-crack of dawn because lord knows most people I encounter run like hell in the opposite direction when they hear about my early-to-bed, early-to-rise habits/lifestyle. Or maybe one who teaches morning yoga or gets up early to train clients? Also, can someone tell me when a habit becomes a lifestyle because I've been keeping this schedule for a few years now so maybe it's time to own up to the fact that I'm basically 82 years old?
Sunday also happened to be the first day of Eli's series of training classes, so after having a quick snack, I took him over. It's more training for me so I can learn how to teach him stuff—I think he just thinks it's structured time for him to eat treats and play with other puppies. Greek yogurt with some flax, cinnamon, and berries hit the spot. I'll be sad when berries are no longer in season. I already have some squirreled away in the freezer for desperate cold-weather moments. 
After puppy class, I played with Eli for a while before winding down. I made a repeat of the other night's Vegetti dinner: zucchini "noodles" with veggies and chicken sausage plus some grated pecorino on top. I had a piece of dark chocolate for dessert. 
I forgot to take a picture, but I had a banana with some peanut butter before bed. Yes. again. I'm still on that food jag.
What time do you usually wake up? What's your favorite brunch food?
To see more WIAW from other bloggers, visit founder Jenn's blog Peas & Crayons.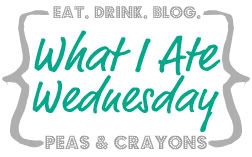 Hungry for more?
Subscribe to get the latest nutrition information, self-care strategies, and healthy living tips delivered right to your inbox.