What I Ate Wednesday, we meet again. Hope your week is off to a good start. Amanda was musing the other day about how our concept of a weekend changes as we get older and swap cartoons for errands and to-do lists. For those of us who work on the weekends, it can further complicate our sense of what day it is—not to mention what the name of a day really means. 
Between Back-to-School ads and the upcoming 10-year reunion I am mostly likely not going to, I've been thinking  about my high school classes lately. Creative Writing was always my favorite, and I got a lot out of English. My sophomore year, we did our Existentialism unit in late winter/early spring, which is basically the most depressing time of the year. All I really remember was that my main takeaway was, "Well, if this is all meaningless and arbitrary, may as well make the best of it?"
Anyway, I kind of feel that way now about days of the week—at least as this point in my life and career. A day is a day is a day. Maybe one day I'll remember  what a weekend is supposed to feel like, but it's been a while.
This past Saturday was spent working at the hospital. I actually don't mind the weekends because it's quieter and easier to get everything done. I also find patients are really chatty, which can be hilarious. My favorite from that day was when a patient told me that husbands are like pancakes: You usually have to throw the first one out.
I usually pack a lot of good food to get me through the day. Here's what was on the menu this week:
Breakfast: Greek yogurt with blueberries, coconut flour, and flax with a little cereal on the side for crunch.
Lunch: Salad with sardines.
Snacks: An unpictured apple; a new-to-me Gnu bar flavor; Dunkin Donuts coffee; a sweet potato with chocolate goat cheese and raspberry jam when I got home (oh, PMS cravings—the weirdness never ceases to amaze me)
Dinner was a bowl of chili I'd made the day before that was based off this recipe, only I used red kidney beans instead of red lentils and added some black garlic pulled pork.
Before bed, I had a sliced banana with a little peanut butter. Never gets old.
What was your favorite (or least favorite) class in high school? What are your weekends like now? 
To see more WIAW from other bloggers, visit Jenn's blog Peas & Crayons.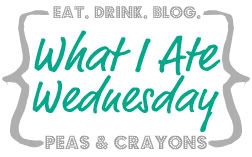 Hungry for more?
Subscribe to get the latest nutrition information, self-care strategies, and healthy living tips delivered right to your inbox.