Happy What I Ate Wednesday! How's your week going?
I just got back to NYC on Monday afternoon after a weekend in Boston for an event Sunday morning at the Newbury Street Athleta store. It was a great time! After a yoga class, participants enjoyed a breakfast bar featuring mostly local vendors. It was fun to share some of my favorite ideas for Greek yogurt toppings after talking about healthy breakfast ideas for hectic mornings.
Thanks to Sophia's Greek Pantry, Teddie Peanut Butter, TastyMakes, and Bonnie's Jams for making the event possible. My friend Lauren, who works for Bonnie's, was really awesome about answering the group's questions about the company's old-school methods that allow them to use less sugar and focus on the natural beauty of the fruit. Of the flavors we tried on Sunday, I think my favorite was the fig jam (surprise, surprise), though I also liked the Black & Blue (blackberry + blueberry=delish).
I also want to give a little shout out to Chex for sharing some of my favorite instant oats and beautiful recipe cards! Thank you to Athleta for hosting and to Jocelyn for teaching a great yoga class!
I wasn't in town for very long, but I had a great time. Since I haven't taken a "real" vacation in a long time, I decided to make a mini-trip of this and found a Living Social deal for a hotel room. Sunday morning, I was up early, so I enjoyed a workout—aka reading Donna Tartt's The Goldfinch on the elliptical—and room service.
I'm kind of obsessed with frittatas lately, so this egg-white version with tomatoes, avocado, and turkey sausage was right up my alley. I may have also consumed an entire small pot of Starbucks coffee…
I'm glad I had a full breakfast before the event—by the time it was all over, I had only a few bites of what was left after everyone was gone. I was so happy the breakfast bar had been a success! I snagged a salad from nearby SweetGreen and wandered back to my hotel room to relax a bit before heading to an event hosted by Slow Food Boston. 
This was freaking glorious: mixed greens, mesclun, basil, peaches, shrimp, and ginger goat cheese (!!!) all tossed with balsamic vinegar. I may or may not have eaten this two days in a row.
The event that I went to was on Allandale Farm in Chestnut Hill. We were seated near the flower field—it was absolutely gorgeous weather! It was fun to meet so many new people and hear everyone's thoughts on food, cooking, and community.  
The food was provided by a local Italian restaurant, La Morra. If I lived in the area, I would probably go there all the time. The various appetizers we enjoyed were fantastic. I think my absolute favorite was the tuna & butter wrapped in roasted pepper, but I also loved the fig with gorgonzola & prosciutto, and the farm's heirloom tomatoes were perfectly showcased in a tomato confit that was served over homemade stracciatella and bread. Oh, and there were big platters of sliced tomatoes just out on the table to enjoy. We must have tried six or seven different things—if not more. It was practically a meal in and of itself, and gave me tons of ideas for things to try to recreate at home.With our food, we enjoyed an Aperol spritz. I'd never tried this orange liquor before, so it was a really neat change of pace. I really, really, really want to go back to Italy. 
That said, by the time Lauren dropped me back at my hotel, I was starting to get hungry again, so I popped in a nearby grocery store to pick up some (what else?) Greek yogurt. After making a little yogurt mess of my own, I totally face-planted into my gorgeous, giant hotel bed. Heaven. 
What's one of your favorite breakfasts? Have you ever been to a food event where you tasted lots of different things? 
To see more WIAW from other bloggers, visit Jenn's blog Peas & Crayons.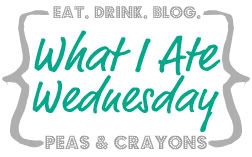 Hungry for more?
Subscribe to get the latest nutrition information, self-care strategies, and healthy living tips delivered right to your inbox.