Happy What I Ate Wednesday! Sometimes I jokingly want to call this "What a Dietitian Really Eats Day," but that's basically this whole blog, so that would be redundant. Anyway, how's your week going?
For this week's post, I thought I'd share some of what I enjoyed this past weekend. Saturday could have completely sucked, but it ended up being a really nice, relaxing day.
Friday night, Eli had a bad reaction to some medicine and was throwing up all over the place and then took to whimpering and pacing all night once his stomach was empty. I felt so bad for him. We slept from 3-5 a.m.  before he decided it was time to get up and go out for a walk, so needless to say, I was wiped out too. Rather than scrap all my plans, I decided to pretend I'd slept a normal night and go about the first part of my day. A filling breakfast of veggies with tahini, egg whites, and hemp seeds gave me enough energy to get through my morning to-do list.
Then I went to a yoga class, which really helped center me. After eating some berries & ricotta, I laid down for a nap with Eli. It was glorious. 
I met up with some people for lunch at Taverna Klycades in the East Village. I could eat their Greek salad and grilled squid every day and not get sick of it. Multiply the picture below by, like, 10. The grilled bread they brought out when we sat down was also fantastic. 
I was also a fan of the (free) dessert: tangy Greek yogurt with cherries—loved it! 
By the time I made my way home, it was going on 4:30. After hanging with the pup and getting some stuff done around the apartment, I had a glass of sauv blanc while I roasted a bunch of veggies and made dinner. I ended up making pasta with arugula, local zucchini and tomato, plus asparagus, peas, and prosciutto. It was delicious. At first, I wasn't a big fan of the brown rice quinoa fussilli from Trader Joe's, but it's grown on me. I usually add about 1/4 cup dry. If I weren't having wine with the meal, I might use 1/2 cup of pasta. 
I love that "socializing" your dog is a thing. It was so nice to spend the summer evening walking around with Eli talking to a bunch of different people while he made new friends. It  blows my mind that I previously would have spent this time on my computer, likely on Facebook, moping about not being out doing something fabulous. What a waste.
When we eventually made our way home, I enjoyed a sliced banana with a little peanut butter before face-planting into bed.
Both the pup and I slept straight through the nigh this time—much needed!
What did you eat this weekend? What food could you eat over and over? 
To see more WIAW from other bloggers, visit Jenn's blog Peas & Crayons.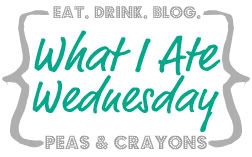 Hungry for more?
Subscribe to get the latest nutrition information, self-care strategies, and healthy living tips delivered right to your inbox.