Happy Wednesday! This week I have a much more presentable  What I Ate Wednesday spread than last week's.
Things with the pup are awesome—little dude is a constant source of  amazement and amusement. I love that he's made his crate into his den. When he needs a break from playing, he likes to lay in there and gnaw on it. 
Weirdo.
Anyway, I was lucky enough to have another weekend where I was not working at the hospital. Saturday was a really mellow day where I went to a great yoga class and enjoyed some tasty foods that were not all salad or messes in bowls. I even made something on the stove! Nothing like a chickpea flour pancake for dinner with tons of veggies and avocado. 
On Sunday, my mom came into the city to spend the day with me. The weather was gorgeous, which made us both feel like we were on vacation. Our first stop was Balkanika in Hells Kitchen. I'd bought a Living Social Deal some months earlier. The deal came with two goblets of wine:
…four mezze (we ordered brussels sprouts, cauliflower, grilled mushrooms, and babbaganoush), two entrees (Greek salad and a beef & onion bourek for us), and two desserts. We can out of steam for dessert but were treated to coffee instead.
After stopping at my apartment to take the Luck Dragon out, we grabbed some fro-yo at Pinkberry (my seasonal craving has officially been satisfied) before going to see Chef. It was the perfect movie for a summer afternoon. But wow, so much food porn, complete with porn-y music. My mouth was watering the whole time.
After the movie, we wandered to the Vanguard, a wine bar near the theater, where we made a light dinner of some wine and small plates. If you go, I highly recommend the kale salad, olives, and mushroom tartine.
Neither of us really wanted the day to end—it was so nice to just relax and enjoy the city. I felt like I'd just been on a trip, when really, I'd been hanging out in my backyard. Love that.
How did you spend your weekend? What's the best thing you've eaten recently? 
To see more WIAW from other bloggers, visit Jenn's blog Peas & Crayons.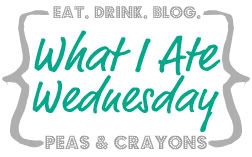 Hungry for more?
Subscribe to get the latest nutrition information, self-care strategies, and healthy living tips delivered right to your inbox.