Somehow it's What I Ate Wednesday again. For more info visit founder Jenn's blog.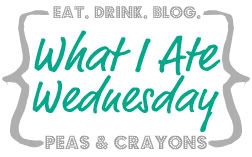 Wednesday came fast this week. Maybe that's because I was at the folk festival last weekend and didn't get home until Monday afternoon?
Since getting back from Newport, I've been catching up on work and stuff around the house. While "brainstorming" for an article yesterday, I made a batch of vegan banana blueberry muffins in an attempt to use up bananas and blueberries that were on their last legs. I also used applesauce instead of oil because I'm trying to use that up too. I omitted the sugar in the recipe because there was so much naturally-sweet stuff in the batter, and I think it tastes good, but not muffin-like. I decided to use half white and half whole wheat flour, but I totally overdeveloped the gluten and ended up with these really dense chewy muffin-shaped things.
They may be a failure in the getting-it-right department, but they are still delicious, especially when cut up and eaten with milk or yogurt.
This was my last week at the clinic for a while, since my supervisor is going to India for the rest of the month. I am trying to work out a schedule with the dietitian there and am planning to help out with some workshops in the fall, so I'm looking forward to getting all that straightened out. In the meantime, I"ll have a little extra time in which to get stuff done. Maybe I won't be doing so much work in the evenings. Imagine that.
I had a lot of stuff in the house today, so I made good use of it. I'm proud of myself for washing and prepping the kale I bought on Monday when I got home from the store. It's made meal prep so much simpler this week! I'll be traveling most of next week, but after that, I'll work on making it a habit.
So, on to the "What I Ate" part of this Wednesday…
Breakfast: Plain yogurt with chopped peach, berries, flax, sunflower seed butter, a sprinkle of granola, and a crumbled banana blueberry muffin
Lunch: Massaged kale salad with miso tahini dressing, tomato, roasted pepper, roasted broccoli and cauliflower and edamame; Ezekiel English muffin with hummus and roasted pepper
Snack: Chocolate raspberry smoothie (1/2 frozen banana + handful frozen raspberries+ lots of ice+ huge handful spinach + 1/2 c soy milk + 1/2 scoop protein powder + 1 tbsp cocoa powder + ~tbsp oats for garnish)
Dinner: Brown rice, baked tofu, roasted broccoli and cauliflower
Snack: Ice cream, eaten in bed while watching an episode of "In Treatment"
After dinner, Chris put together my new desk, which arrived a few days ago. I'm embarrassingly excited, as I haven't had a real desk in many, many years. I got a really good deal on this one, and I was in love with the design from the second I saw it. Turns out it cost about the same to buy one new as it did to get one second-hand off Craigslist.
Haha, this has been the summer of acquiring "grown-up" things: a desk, a suitcase, orthopedic inserts…
How was your Wednesday? What was the best thing you ate? 
Hungry for more?
Subscribe to get the latest nutrition information, self-care strategies, and healthy living tips delivered right to your inbox.