This feels like the first What I Ate Wednesday in way too long that's travel-related. Lately, it's been more, like, "So I woke up at the ass-crack of dawn, banged out a workout, did some craziness at the hospital, followed by some craziness at home, maybe squeezed in some social interaction, and finally face-planted into bed."
Sound familiar to anyone else out there?
Because I am not actually a robot, I set aside a few days over this past summer solstice weekend to go to the Jersey Shore with my mom. We got down late Friday night and stopped by a local restaurant, the Black Whale, for some wine and seafood. I thoroughly enjoyed my goblet of prosecco and steamed lobster. My mom and I had a lot of laughs playing, "How many masters degrees does it take to shell lobster?"
The next morning, we decided to check out a yoga class at a new-to-us studio on the island. We had an awesome time! When I was a kid, my sister, friends, and I always had lots of things we wanted to do, but as an adult, I'm usually just happy to hang out and rest—read on the beach (or even on the couch if I'm too tired from doing nothing to walk to the beach) go out for something to eat, maybe. This weekend was perfectly chill. Saturday night was all about an early dinner at the Boathouse, mini-golf, and ice cream (Turkey Hill Peanut Butter Something-Or-Other for me). Oh, and Skee-ball. It was totally random and really fun!
Sunday, we made breakfast (egg white-veggie scramble with avocado toast) before heading out on a long walk. The weather was gorgeous!
After packing up the car, we had a quick lunch outside the Pearl Street Market before officially hitting the road. My blackened tuna salad was so freaking good—I wish I knew how to recreate this at home!
Looking back, it seems I ate a lot of salad this weekend. Then again, I usually have salad for lunch—there are certainly worse habits!
I really didn't even realize how much I needed a few days away until I was listening to the ocean breeze. Amazing how even two nights out of town can help you feel restored and rejuvenated. I'm trying not to even think about the busy summer I have coming up—let's just take this thing one week at a time and enjoy the ride.
To see more WIAW from other bloggers, visit founder Jenn's blog Peas & Crayons.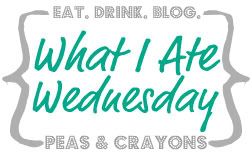 What was the last trip you took? What are your favorite vacation eats?
Hungry for more?
Subscribe to get the latest nutrition information, self-care strategies, and healthy living tips delivered right to your inbox.