Happy What I Ate Wednesday. Thanks for everyone who came out to last night's event! I had a great time.
How about we get right into  the what-I-ate-ness today, shall we?
Sunday at the hospital. Crazy-ass day. I started with yogurt with flax & berries for breakfast:
Given that I literally had more patients to see than I had ever had in a single day before, it was a miracle I found 15 minutes to run outside to grab something to eat. Just Salad to the rescue! 
Because my parents will be traveling and I have to work on Father's Day, my family got together for one of my dad's favorites:  Indian food. After work, I met up with them and sister (who'd just run a 5K charity race that morning because she is awesome) for an early dinner at Tamarind.
We shared a few appetizers to start. My favorite was the cauliflower, which was fried and tossed in some kind of tangy tomato sauce—freaking decadent and delicious! For my entree I enjoyed a peppercorn-crusted halibut in yogurt sauce. 
I don't have a picture of the dessert, but we shared this pineapple upside down cake with a coconut mousse. I also enjoyed some violet mint tea. Oh, and two glasses of sparkling rose. Enjoyed those very much after the day I'd had.
To see more WIAW from other bloggers, visit founder Jenn's blog Peas & Crayons.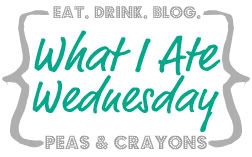 What are your favorite foods to eat on a busy day? Do you like Indian food? 
Hungry for more?
Subscribe to get the latest nutrition information, self-care strategies, and healthy living tips delivered right to your inbox.