Sometimes for What I Ate Wednesday , I try to make everything look pretty, but other weeks, it just doesn't work out that way.
I tend to be good about packing my breakfast, lunch and snacks on the days I work at the hospital, but once in a while I'll have a week where I'm a little  burnt out on the current go-to's but don't really have an alternative planned out. This leads to a little bit of randomness, some afterthoughts, maybe something a bit messier than normal as I try to cobble together a meal. I guess it's a bit like quitting your job without a backup, but obviously not quite as big a deal.
With my clients and patients, I put an emphasis on our sessions as a "judgment-free zone," but of course I tend to be a little bit tougher when it comes to my own eats. However, instead of beating up on myself in the manner of "OMG—cold cereal, peanut powder fluff, deli meat, and protein powder in the same day?!" I'll make an effort to focus on whole (aka real) foods in the following days to balance it out.
Anyway, here's what Saturday looked like, the pros and the cons:
Breakfast: Plain Greek yogurt w/ cinnamon, flax, berries, and Fiber One cereal. I ended up adding some PB2 and strawberry jam because I realized I was going to need a little more to keep me going through the morning.
Lunch: A big arugula salad with tomatoes, cucumber, dijon vinaigrette, and low-sodium turkey.
Snacks: A plum and some dry-roasted edamame during my shift; a protein mug cake (based loosely off this one) with more PB2 before an evening yoga class.
Dinner: I heated up some kale and roasted veggies and mixed in the last of some Trader Joe's falafel from the freezer. I added some baba ghanoush and hemp seeds on top
I also sipped on an unpictured wine glass of ginger kombucha as I was making dinner. After a hot and sweaty yoga session, it was so refreshing.  After dinner, I enjoyed a square of dark chocolate before face planting into bed. Rocking Saturday, I know. It was a nice one, though. I have a busy summer coming up, so taking an evening to take care of myself and relax felt really good. And yes, it was back to real food on Sunday!
To see more WIAW from other bloggers, visit founder Jenn's blog Peas & Crayons.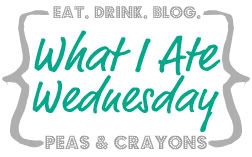 Do you go pack food for work? What did you do last Saturday night? 
Hungry for more?
Subscribe to get the latest nutrition information, self-care strategies, and healthy living tips delivered right to your inbox.