Since the last few What I Ate Wednesday posts were all about busy "event" days, I thought I'd change things up this week and share my eats from a day off at home.
It was nice not to be working on Memorial Day this year. Of course, after working at the hospital all weekend, it was hard to sleep in, so I was up bright & early but with tons of energy. #turningintomymother
I threw in a load of laundry and hopped on the elliptical with a magazine to pass the time, which was a nice change of pace. Also a change of pace: after weeks of craving savory breakfasts, all I could think about was a green smoothie for breakfast. Totally hit the spot. I made this with coconut milk, chocolate whey protein, kale, half a frozen banana, cinnamon, xanthan gum, and lots of ice. I added chia seeds and cacao nibs on top and ate it with a spoon.
I don't normally double up on workouts, but I was really in the mood to go to a yoga class, so I did. It was exactly what I needed. I know that some people don't like to be touched in yoga, but I was so grateful to the instructor who adjusted my hips and back in half-pigeon—it helped me let go of so much stress I didn't even realize I'd been carrying around.
Lunch was strange but good: a mini egg-white frittata that had the last of some leftover roasted cauliflower and cut-up eggplant fries a la the Fitnessista. Unfortunately, my photo is terrible, but it tasted wonderful. I had some salad on the side because I had all the fixings. To round it out, I toasted a whole wheat sandwich thin and topped it with some eggplant dip and—yep—more eggplant.
It was nice to eat my lunch while catching up on Mad Men and the New York Times instead of patient charts and the like. I'm trying to make more of an effort not to eat meals at my desk when I'm home. Mixed success, but this was a good day in that respect.
I got out for a while during the afternoon to hit up a few sales and drink iced coffee in one of my favorite coffee shops. At home I ate some Greek yogurt with flax, blackberries, and some fig-rosemary honey and got some stuff done around the house.
Eventually, I went out again to enjoy a drink at a local wine bar while I read a book.
It felt good to get out, even if it was way too expensive. I usually end up feeling this way after I go out for a drink alone, though it costs the same as it would if I were with a friend or a date. I guess this is why it's not a regular occurrence? Most of the time, I'd rather be drinking ginger kombucha out of a wine glass while I make dinner at home.
Speaking of dinner, I kept it really simple. I'm loving turkey burgers lately, so I had a repeat of a recent fave. With more salad because burgers & salad are the perfect pairing.
A little later, before bed, I had some nonfat ricotta (~1/4 cup) with berries and a little peanut butter, since I realized my day was kind of lacking in healthy fats. My science brain makes me do delicious things sometimes.
To see more WIAW from other bloggers, visit founder Jenn's blog Peas & Crayons.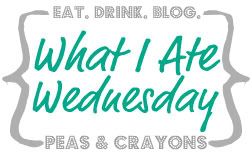 What was the best thing you ate on your last day off?
Hungry for more?
Subscribe to get the latest nutrition information, self-care strategies, and healthy living tips delivered right to your inbox.