Wedding season has officially begun. This past weekend I watched my friends Dan and Rachel tie the knot. I've known these guys since undergrad, so it was really special to be there for the big day—I also got to catch up with some people I hadn't seen in a long time.
When I have a fancy dinnertime event, I like to eat a lot of veggies during the day so I don't feel like I need to worry about getting my green in. For breakfast, I enjoyed my favorite chickpea pancake and later, a big salad for lunch. I ate some 2% Greek yogurt with cinnamon and cereal before getting changed and heading out the door.
The was held at the beautiful Eventi Hotel here in NYC, which was fantastic. The whole ceremony, officiated by an old friend, was so personal. I loved that the groom and bridal party walked down the aisle to an instrumental string version of the Pixies' "Here Comes Your Man" and that a similar version of the Rolling Stones' "Wild Horses" played instead of the usual Here Comes the Bride bulls***.
The food was also pretty great—perfect What I Ate Wednesday fare. Since the bride and groom are both vegetarian, the creative menu was completely meatless.
Not only was the food pretty to look at—it was also delicious and satisfying.
The dessert was super-cute too! 
I'm sorry I didn't get a picture of the couple cutting the cake or anything like that, but on the other hand, I was too busy dancing (in heels—still no idea how I managed that) and catching up with friends. The after party was also a good time.  
I called it a night kind of "early," around one a.m. I've learned that when it comes to events where my single-person positive thinking muscles are working hard, it helps me to end on a high note instead of waiting until the bitter end—emphasis on bitter.
A new thing I learned this go-around: Don't spend too much time photographing food, or you'll scare away any and all potential suitors at said event. Back when I was living in sin and not "allowed" to flirt at weddings, it made perfect sense to distract myself from those creepy-crawly "will that ever be me/us?" feelings by photographing every dessert course. Now, though, using my phone/camera as a security blanket feels antisocial and weird. I might challenge myself to leave the electronics in my purse at the other, like, eight weddings I have coming up this year. We shall see.
Anyway, because of all that dancing, etc, by the time I got home, I was hungry again, so I had a banana with some PB and peaced out, dignity intact.
Do you like weddings? What are your thoughts about photographing your food at big events? 
To see more WIAW from other bloggers, visit founder Jenn's blog Peas & Crayons.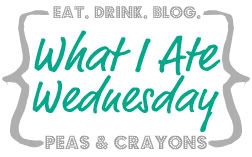 What was the best thing you ate last weekend?
Hungry for more?
Subscribe to get the latest nutrition information, self-care strategies, and healthy living tips delivered right to your inbox.