Good morning! How's your week going? Instead of my talking about how f-ing busy I am but *positive thinking* let's dive right in to some weekend What I Ate Wednesday-ness. Sound good?
Saturday was business as usual at the hospital. Or okay, maybe "business as usual" on steroids. I had to tell myself more than once, "If Britney Spears survived 2007, I can handle this list of 17 patients." If it weren't for photographic evidence of what I ate, I would not remember anything about what I did Saturday night after I got home. I was so tired, I basically face-planted at grandma o'clock.
Oh, and guess who go caught in the rain on her way home? Definitely needed wanted a glass of wine after that one. 
Lovely. I made myself fish (with a side of potstickers) for dinner because it felt vaguely fancy and Saturday-worthy. 
Sunday I got up early to go see my family for Mother's Day. We spent the day riding around New York State checking out vineyards. Lunch at the Landmark Inn was delicious—great random lunch break! 
(PS I totally forgot to take a photo of my breakfast, but I had lentils with veggies I was trying to get rid off and then added a poached egg, tahini, and goat cheese).
We made our way back to my parents' house, where my mom helped me clean out some stuff from my old room. We stumbled upon a box I didn't know I had full of old love letters, IM conversations I'd printed out, and photos of boys I hadn't thought of in, like, ten years. Talk about a trip. I officially have no more secrets. Or at least no secrets from before the age of 18.
She also showed me these newspapers and magazines she'd found when they were moving furniture out of my old room to fix the floor. Apparently my younger self thought these things would be important one day.
For dinner, we enjoyed some ribs, fish, and salad at my parents' kitchen table. It was a simple, enjoyable meal. 
By the time I got home, it was late (love when the bus drives right past the stop and you end up waiting an hour and guilt your dad into driving you home), and I was hungry. Banana and peanut butter, it was. 
I also finished my night with a packet of much needed CALM. Slept like a f***ing rock.
To see more WIAW from other bloggers, visit founder Jenn's blog Peas & Crayons.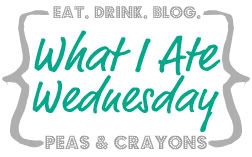 What was the best thing you ate last weekend?
Hungry for more?
Subscribe to get the latest nutrition information, self-care strategies, and healthy living tips delivered right to your inbox.