I love all the lamb-talk this time of year. So many wonderful recipes! Given that my dad is half-Greek, lamb has always been the default "celebration protein." It's a holiday, let's gather around a hunk of meat! In my parents' house: Lamb. Anyway.

Lamb is a fantastic source of protein, iron, and B-vitamins such as riboflavin, B-6, and B-12. If you choose a leaner cut, you can get all the good stuff without overdoing it on saturated fat and cholesterol. There are many symbolic (especially religious) reasons lamb is commonly eaten in spring, not least of all that nod to rebirth—the end of winter and beginning of spring.
An aside: I always found that "behold the lamb of God" part of the Catholic mass a little challenging because even as a child, I wanted to say, "Show, don't tell!" If they had given out hunks of lamb instead of wafers for communion, perhaps I would have felt differently, but then there would be all kinds of issues around sustainability and the ethics of slaughtering whole animals to feed little symbolic bits to Church-goers. Also, where would this meat come from? Who would prepare it? How would it be stored? And let's not forget $$$ Maybe lamb-shaped wafers would have worked as a middle-ground?
A few years ago, when I was just starting to get back into eating meat without bracing for a lecture (ah, the things we put up with for love), lamb was sort of the "gateway," much like I've heard former vegetarians talk about bacon being their reentry into the world of animal protein. Even now, it's one of those foods that I crave—it's such a specific hunger that it causes me to check in with my whole diet over the past few days or week to see what's missing. Usually it's iron, especially if it's around "that time of the month."
Last Friday night, I started wanting lamb. By Saturday it was a physical, impossible-to-ignore need. Even the best jobs occasionally throw you "one of those days," during which you wonder why you can't just be happy working 9-5 Monday to Friday like "everyone else." Naturally, these days tend to happen during really intense weeks that involve too much stress and not enough sleep. At least being on your feet a lot keeps you awake? I actually wore through the heels of a pair of socks—I had no idea that was even possible. Now I know. Leaving the hospital Saturday afternoon, I felt like an iron-depleted basket case.
I had plans to make plans for an early dinner with my dad, sister, and her boyfriend, who were all in town for a book festival. My sister became my hero for suggesting Gazala's. Lamb craving satisfied, mood and functional human being qualities restored.
Because this is What I Ate Wednesday, here's a look at the non-lamb things I enjoyed on Saturday as well:
Breakfast: a hard-boiled egg before the gym; Greek yogurt with cocoa powder, chia seeds, and frozen berries (soaked overnight, overnight oats-style)
Lunch: Giant salad. This one had greens, chickpeas, caramelized onions, roasted cauliflower, roasted peppers, roasted mushrooms, steamed beets, grape tomatoes, and guacamole hummus (a Trader Joe's favorite) for dipping
Daytime Snacks: dry-roasted edamame, a tiny, adorable Pink Lady apple
Dinner: a glass of house rose wine, tabouleh, babbaganoush, pita, and lamb kebab with salad
Evening Snack: chamomile tea when I got home from dinner; banana with non-fat ricotta, maple syrup, and a sliced, dried fig (unpictured because I was so tired I forgot to take one)
To see more WIAW from other bloggers, visit founder Jenn's blog Peas & Crayons.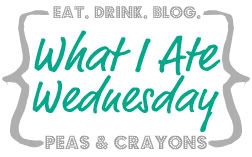 What's your family's go-to celebratory meal? What foods do you tend to crave? 
Hungry for more?
Subscribe to get the latest nutrition information, self-care strategies, and healthy living tips delivered right to your inbox.