So wow, April. Who's ready for the first What I Ate Wednesday of this new month?
I've been working more weekdays at the hospital, and I kind of like it. I'm crazy-busy but happy. Sure, it's exhausting to have a schedule that changes week to week, but the flexibility is part of why I took this job.
The days I'm at the hospital, I find myself eating small amounts throughout the day to keep my energy up as opposed to several larger meals like I do on my days where I'm working from home or seeing private clients. I still plan regular meals, but I eat them in parts. I'll have a big salad for lunch usually, but I'll supplement with snacks to give myself the scope of nutrients I'd be more likely to have at one meal if I was eating at home.
Breakfast Part One: A couple egg muffins before leaving the house (pardon the recycled photo)
Breakfast Part Two: 2% plain Greek yogurt with flax and cinnamon after rounds
Lunch: A big salad with chickpeas and olives; a dark chocolate truffle from a co-worker (another recycled pic)
Snacks: an apple; dry-roasted edamame; another egg muffin with some leftover roasted veggies & hummus after work
Dinner Part One: kir royal flight and cheese plate with a friend at Flute
Dinner Part Two: a steamed sweet potato with PB (sorry for the third recycled pic—it was a really busy day and I forgot!)
To see more WIAW from other bloggers, visit founder Jenn's blog Peas & Crayons.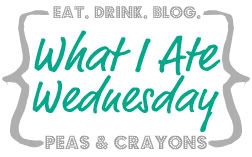 Do you ever eat your meals in parts? 
Hungry for more?
Subscribe to get the latest nutrition information, self-care strategies, and healthy living tips delivered right to your inbox.