First off, thank you for the kind words, insightful comments, and touching emails in response to Monday's post. I love hearing your stories. You guys rock.
Also, if you're interested in signing up for my monthly newsletter, send me your email at keepingitrealfood(at)gmail.com.
And now we return to our regularly-scheduled post…If it isn't What I Ate Wednesday again…How's your first official week of spring so far? My schedule is a little flip-flopped since I'm working the first half at the hospital instead of the other way around.  It's been busy, but at least the vibe has been upbeat. Can't complain about the food, either. Here's one not-too-sad desk lunch I wanted to share: 
Salads are one of my favorite ways to use up whatever's in the fridge. Sweet & savory tofu for Meatless Monday, why not? Rather than do a play-by-play post, I thought this go-around I'd just share some weekend highlights.
To see more WIAW from other bloggers, visit founder Jenn's blog Peas & Crayons.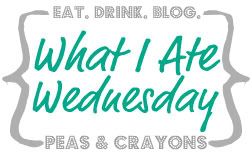 What was the best thing you ate last weekend?  
Hungry for more?
Subscribe to get the latest nutrition information, self-care strategies, and healthy living tips delivered right to your inbox.