Hm. I am not good at using what I call "chirp words" like "bites," "eats," and "noms," but hey. As I mentioned recently, I have a lot of weddings coming up in the next twelve months. The last cluster of "I Do'"s for me was back in 2011, so I'm a little out of practice. I've taken to wearing heels around my apartment to get used to wearing them again.
This past Sunday found me in New Jersey, where I celebrated the upcoming wedding of my friend's Dan and Rachel. The bridesmaids and groom-to-be did an awesome job of keeping the surprise bridal shower a surprise. It was a lovely afternoon complete with great food—no one does American-Italian like New Jersey.
So how about we do this What I Ate Wednesday thing? To see more WIAW from other bloggers, visit founder Jenn's blog Peas & Crayons.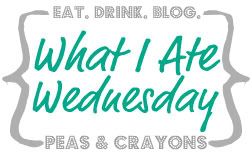 Having a big, indulgent meal in the middle of the day can definitely be hard to navigate, but that's what balance is all about. I thought I'd share this day because it's a good example of how I paced myself through a day of travel that included champagne, cake, and cheese. Definitely not "perfect," but that's the point—life's celebrations are not about perfection; they're for enjoying the company of loved ones and sharing food and drink. When it comes to the food, I usually take a serving of whatever it is I most want to have and then fill the rest of my plate with veggies. The rest of the day I try to stay in touch with my hunger levels and let that guide what else I might eat. Anyway, you're probably all, "Blah, blah, blah—dietitian talk. Let's see some pictures." So anyway, here's a glimpse at my Sunday…
This slideshow requires JavaScript.
Breakfast: Savory oats
At the shower: Over the course of a few hours…a cube of parm and a piece of bruschetta (unpictured); a slice of eggplant parm, a fried shrimp, a piece of mozzarella & tomato, and some salad with olive oil & vinegar; half a slice of cake (mostly frosting because I am a kid about cake); 2 glasses of champagne
Dinner Part 1: Sautéed brussels sprouts  (yay, leftovers) with a roasted garlic chicken sausage from Trader Joe's
Dinner Part 2: A (heart-shaped) sweet potato with PB
What are some of your favorite special-occasion foods? Or drinks? What was the best thing you ate last weekend? 
Hungry for more?
Subscribe to get the latest nutrition information, self-care strategies, and healthy living tips delivered right to your inbox.