So, wow. Daylights Savings is happening in a few days. March is moving along. Apparently so am I, as the pedometer on Argus, an app a client encouraged me to check out, keeps dinging happy things at me for reaching 10,000 steps most days recently.  I feel like we just did What I Ate Wednesday! Then again, every week feels like a year. Does this mean I'm transitioning to dog time or something? What foods are you enjoying to stay fueled this week? To see more WIAW from other bloggers, visit founder Jenn's blog Peas & Crayons.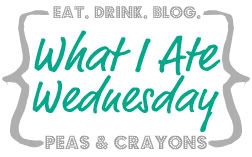 This past Saturday I worked at the hospital and then met up with my family later in the evening for dinner. My daytime meals and snacks were pretty typical, but it was such a nice treat to slow down and enjoy an indulgent meal at Bar Baloud after having been on my feet all day.
This slideshow requires JavaScript.
Breakfast: Plain Greek yogurt with flax, oats, cinnamon and berries (soaked overnight)
Lunch: A big salad with white beans a roasted veggies
Snacks: A plum, sprouted-grain toast with cottage cheese and eggplant, hard-boiled egg
Dinner: At Bar Baloud—arugula salad, a pork & potato "tot", seared duck breast with duck leg ravioli & brussels sprouts, a few bites of this chocolate caramel dessert
Whoops—look I had salad twice in one day! There are certainly worse things…
What foods do you sometimes eat twice in one day? What's your favorite workday lunch? 
Hungry for more?
Subscribe to get the latest nutrition information, self-care strategies, and healthy living tips delivered right to your inbox.