Good morning and happy What I Ate Wednesday! How's your week going?  Mine's pretty busy, so let's get right to this link party thing, shall we?  that To see more WIAW from other bloggers, visit founder Jenn's blog Peas & Crayons.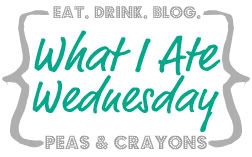 I spent part of last week at the Integrative Healthcare Symposium in NYC. It was great to nerd out on all kinds of lectures and discussions—more on that in a later post. I have to admit I love feeding my brain, but as an introvert, it's hard to spend so many days in a row in that setting. Does anyone else ever wrestle with that? I used to be hesitant to admit it to myself and wasted tons of time feeling guilty for not feeling anything short of ecstatic at all moments, but then I realized what an energy-suck those kinds of thoughts can be. I get much more out of these kinds of things when I meet myself where I am and open my mind to all that new information. This time around, the food certainly didn't suck either. Here are some of my favorite meals and snacks from the 3 days at the conference.
This slideshow requires JavaScript.
Do you consider yourself an introvert? What was the most interesting conference or event you've been to? 
Hungry for more?
Subscribe to get the latest nutrition information, self-care strategies, and healthy living tips delivered right to your inbox.