I can't believe today is my 150th What I Ate Wednesday post. What's especially crazy about that is I don't think I missed many—if any weeks. Out of 150.  And neither has the lovely host, Jenn of Peas & Crayons. I love that one blogger was of getting a look at what she was eating turned into a fun weekly link party. If you want to see more WIAW from other bloggers, take a little visit on over there.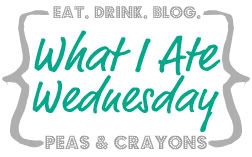 It's kind of amazing how much has changed since Week One, back on April 14th, 2011 (yes, I had to go look back in the archives—I'm terrible at remembering dates). Here's what my day of meals and snacks looked like:
Breakfast: Overnight oats—oats, chia seeds, yogurt, banana, spices, frozen blueberries.
Lunch: Brown rice with tofu and mixed veggies, homemade red miso sauce. An apple for dessert.
Snack: Mini Babybell cheese.
Dinner: Leftover whole wheat pasta with spinach (cooked in garlic and olive oil), a few spears of asparagus, a bit of leftover pesto and parm, and an egg cooked in—weird but good. Tomato soup on the side.
Snack: Toast with dark chocolate peanut butter and half a banana.
The 50th post, which was March 21, 2012, looked like this:
Breakfast: leftover chocolate chia oats, topped w/ berries and (unpictured, due to tech problems) chocolate PB2 sauce
Lunch: Salad from the cafeteria (eaten outside—about damn time) and an unpictured pink lady apple and coffee
Dinner: St. Patrick's Day-ish leftovers from Saturday's dinner. My mom makes awesome vegetarian stuffed cabbage, and the sautéed/accidentally caramelized cabbage rocked.
Snack: An unpictured piece of dark chocolate (w/ caramel & black sea salt—I love Trader Joe's); Greek yogurt w/ fruit, cereal, fig butter and honey later on.
Here's what I was eating around the 100th post, on March 6th, 2013:
Breakfast: zucchini bread oatmeal
Lunch: tortellini soup; side salad; dark chocolate
Snack: yogurt with fruit and cereal
Dinner: tandoori tofu with curried basmati rice, veggies, and avocado
Snack (unpictured): sliced banana with PB2 sauce with cocoa & protein powder mixed in—an experiment gone ok
And here's what things looked like this year. I chose this past Monday, since it's been a while since I've posted a work-from-home day.
Breakfast: Plum tahini oats with fig& ginger preserves
Lunch: A big salad with shredded chicken and avocado; (unpictured) popcorn made in a brown paper bag in the microwave-so easy!
Snacks: Plain Greek yogurt with cereal and berries.
Dinner: Another stuffed pepper with a side of roasted veggies & steamed kale with goat cheese on top.
Dessert: A sliced banana with ~ 1 tbsp coconut peanut butter spread
Funny how things change and yet remain the same, isn't it?
In what ways do you think the way you eat has changed in the past few years? What's remained the same? 
Hungry for more?
Subscribe to get the latest nutrition information, self-care strategies, and healthy living tips delivered right to your inbox.