Mid-week already? Well then. Happy What I Ate Wednesday. As always, many thanks to the lovely Jenn of Peas & Crayons for hosting the weekly link party—hop on over there to see more WIAW from other bloggers!
I started my new clinical job on Monday, even though I'm technically not done at the other place until the 29th. I'm just doing a few training days in between. It sounded manageable when I agreed to the set-up, but I'm sure in a month, I'll be able to call  this two-week period of crazy what it is and laugh at myself for biting off more than any sane person would think to take on.
Monday morning had a 7:30 start time. Normally, I like to work out first thing in the morning, but for the sake of my immune system, which was calling out for more sleep, I slept in until 5:30 (gasp) and planned to try out a new-to-me Barre 3 DVD in the afternoon. Though I've done the 4:45 wake-up call (my burn unit rotation—good times), Sunday's scratchy throat/runny nose/headache combo suggested that was probably not the best idea. Glad I listened.
Anyway, here is what I ate on Monday to get me through the madness. Having a nice lunch to look forward to was a huge load of stress off my back—trying to procure a good meal on a first day at any new job is awful. I  was relieved to see that a few of the other RDs also packed their lunches so I didn't feel like the weird kid. Not that this has ever stopped me from doing things before.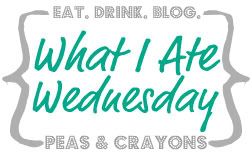 Breakfast: Zucchini bread oatmeal with PB—what else? Later, I had some coffee at a Starbucks because I was running early.
Lunch: A salad with baby spinach, lentils, brown rice, roasted eggplant and peppers, and caramelized onions; hummus with goat cheese on the side instead of dressing
Snacks: Carrot chips during a morning break; yogurt with flax and blueberries when I got home
Dinner: Black bean chicken chili and avocado toast
Snack: Sliced banana with nonfat ricotta'yes, again. I'm on a jag.
Do you pack lunch on your first day at a new job or school? What time of day do you like to work out? 
Hungry for more?
Subscribe to get the latest nutrition information, self-care strategies, and healthy living tips delivered right to your inbox.