Welcome to the first What I Ate Wednesday post of 2014. Or okay, the first one about food actually consumed in 2014. Ironically, this week I'm giving you a look at last Friday, on which I took my last vacation day of 2013.  Whatever works, I guess. It was "use it or lose it," which is why I took so many random days off in November and December. I am and am not looking forward to working full weeks at my clinical job now that the new year has started. On the one hand, it was nice to have the extra time to do other things, but on the other, it was really stressful to squeeze in as much as I could on the days I was there. So this was a nice way to spend a snow day, and I got to eat a lot of delicious things. As always, many thanks to the lovely Jenn of Peas & Crayons for hosting the weekly link party—hop on over there to see more WIAW from other bloggers!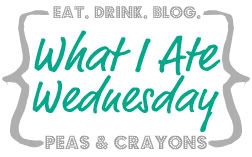 Breakfast: Quinoa with kale, roasted veggies, egg whites, and goat cheese
Lunch: Leftover red lentil chili; salad; a toasted whole wheat sandwich thin with hummus and roasted eggplant
Snack: Plain Greek yogurt with cinnamon, cereal, and fig & ginger jam
Dinner: Shakshuka at Hummus Place in the West Village, along with some mezze I shared with my friend Anna. We had falafel, roasted eggplant in tahini, and roasted cauliflower. And about a gallon of mint tea, which our server kept bringing. She even sent us each home with a cup to go, on the house. So nice! The restaurant also serves wine and beer, but as I'd had a glass of red wine at a nearby bar before dinner, I was more than happy to sit hot tea. It was the coldest night in 20 years, according to the chitchat on WNYC.
Dessert: One of these chocolate-covered cherries my aunt and her husband brought back from Seattle. So delicious!
Man, I could eat shakshuka pretty much every day and not get sick of it. Naturally, Saturday morning, I had to buy eggs and canned tomatoes so I could make my own. Traditionally, you poach the eggs in the spicy tomato sauce, but I usually make a short-cut version in which I just top a mix tomato sauce and veggies with a poached egg. Not exactly authentic, but super-satisfying.
What food could you eat every day and not get sick of? 
Hungry for more?
Subscribe to get the latest nutrition information, self-care strategies, and healthy living tips delivered right to your inbox.