Happy New Year! Are you excited for 2014? It's cheesy, but I am. I hate New Years Eve (which is why I willingly volunteered to work New Years Day), but I love the fresh, clean feeling of January 1st. I always try to make good choices to inspire more for the 12 months ahead, and I try to sneak a few lucky foods in there. 
As we welcome a new year I thought I'd use this week's  What I Ate Wednesday to pay tribute to the poorly-lit workday meals that kept me going through most of 2013. It's not always pretty, but hey, sometimes you just have to eat to live. I'm curious to see in what ways my tastes will change—and remain the same in 2014. Not a lot changed over the past year, except that I got over some of my kitchen fears and started paying a little more attention to presentation—at least at home! Packing and eating two desk-meals per day was new, but a welcome challenge. One thing I am hoping to do in 2014, though, is to not have to rely on shelf-stable peanut butter. This coconut oil stuff tastes good and I feel slightly better about it than I do palm oil versions, but nothing beats straight up ground peanuts. 
Anyway, let's get to the "what I ate" part of the post, shall we? As always, many thanks to the lovely Jenn of Peas & Crayons for hosting the weekly link party—hop on over there to see more WIAW from other bloggers!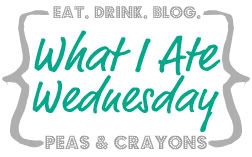 Here's what I ate on Monday, which was a bit hellish, as we had less than half our usual staff, but thanks to a new Spotify playlist in my headphones, I powered through all the notes and to-do list items. I had hoped that spending slightly more time at my desk would keep me from getting hungry as soon, but thanks to the morning's interval workout (something I do once a week instead of the usual, just to shock the system so my muscles don't get bored), I was just as hungry as usual. One day, I will miss having this problem.
Breakfast: Zucchini bread oats with PB (pardon the recycled pic)
Lunch: Salad and chicken chili. A little while later I had some crackers.
Snack: Plain Greek yogurt with cinnamon, ~1/4 c cereal, and ~1 tsp Fig & Ginger jam before running out the door for some after-work errands
Dinner: Another serving of last week's Mushroom, Kale & Chickpea detox recipe; alongside some toast with hummus and roasted eggplant on top. I also had a small glass of wine. Apparently 3 ounces is my sweet spot.
Snack: I'd made another batch of the zucchini oats for the next few mornings and had ~1/3 cup left, so a few hours after dinner, I had that with a little warmed up soy milk. Even though I eat something an hour or so before bed, I wake up ravenous, so part of me wonders why I bother. However, if I don't eat before bed, I wake up ravenous in the middle of the night, so hey…
One of the things I love about Jenn's WIAW link party is the focus on creating a judgment-free zone. It can be so easy to compare ourselves to others, but one of the biggest favors you can do for yourself is to tune in to your body and listen to what it needs—not what you think you should want or what someone else tells you should need. You're the expert on yourself, after all.
How did your tastes change over the past year? 
Hungry for more?
Subscribe to get the latest nutrition information, self-care strategies, and healthy living tips delivered right to your inbox.