So wow—Merry Christmas! Happy December 25th! I know I keep talk ing about the time going quickly, but the holidays seriously snuck up on me this year. However, I managed to get all my shopping and prep done this weekend. I guess that's one benefit to not being coupled up—I don't have to deal with all the obligatory partner things like office holiday parties or cookie swaps at someone's college roommate's girlfriend's place or whatever.
I'll be back later this week with some pics to share from my holiday meals, but for this week's  What I Ate Wednesday, I figured I'd share some of my weekend eats—aka the things I relied on to stay fueled as I cleaned out the fridge, wrapped the last of my gifts, and overall got my act together.  As always, many thanks to the lovely Jenn of Peas & Crayons for hosting the weekly link party—hop on over there to see more WIAW from other bloggers!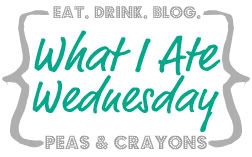 Here's what I ate on Sunday…
Breakfast: Zucchini bread oats with PB
Lunch: A bunch of veggies (cheers to cleaning out the fridge) and pulled chicken from the slow cooker, topped with hummus
Greek yogurt with cocoa powder and homemade granola—recipe coming! After I snapped this picture I added some homemade cranberry sauce that needed to get used.
Dinner: Leftover mushroom lentil bourguinon; toast with hummus & roasted eggplant; an unpictured square of dark chocolate
Snack: Cottage cheese (the No Added Salt kind) with granola
What's the best thing you've eaten recently? 
Hungry for more?
Subscribe to get the latest nutrition information, self-care strategies, and healthy living tips delivered right to your inbox.