This December feels much busier than last year! Where is the time going?  What I Ate Wednesday? As always, many thanks to the lovely Jenn of Peas & Crayons for hosting the weekly link party—hop on over there to see more WIAW from other bloggers!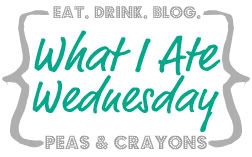 Since I don't feel like I've shown you a work day in a while, how about I share a few highlights from early this week? Behold…
Breakfast: Pumpkin cranberry oats in a nearly-empty peanut butter jar Tuesday morning
Lunch: Leftover tempeh & mushroom stir-fry over greens with other veggies mixed in
Random: Tuesday there was cake to celebrate my birthday and a co-worker's upcoming marriage. Because two cakes is probably not in the budget, there was a universal cake.
Snack: Greek yogurt with cranberry sauce and cereal Monday
Dinner: An ahí tuna salad while in a restaurant with my family
Snack: Ugly but satisfying cottage cheese with a drizzle of maple syrup before bed
Is your December really busy too this year? What's on the menu this week? 
Hungry for more?
Subscribe to get the latest nutrition information, self-care strategies, and healthy living tips delivered right to your inbox.