Happy What I Ate Wednesday! For more about the series, visit founder Jenn's blog.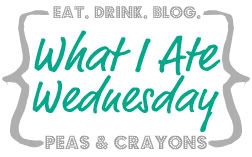 So, guess whose alarm didn't go off this morning? That hasn't happened to me since January, the morning of the great iPhone alarm clock glitch. Somehow, I magically woke up at 8 a.m., 20 minutes before I'm normally out the door. Whoops.
Initially, I was a bit bummed because I'd been looking forward to going to the gym and starting to read a friend's script, but after a lightning-quick shower, I was glad for the extra sleep, as I've been tossing and turning more than I've been sleeping the past week or two.
I know some people are fine leaving the house before breakfast, but that just wasn't going to happen. Luckily, I'd made overnight oats last night, so I was able to munch on those while getting ready. I may or may not have consumed an ungodly amount of coffee throughout the morning. 
I'd also packed lunch last night, and by the time I had a chance to sit down and type up notes, I was glad I'd thought ahead. Massaged kale salad always travels well. This one had chickpeas, roasted peppers, and whole wheat couscous in it, and was massaged ("in a non-creepy way") in miso-tahini dressing. I'd also brought an apple for dessert. 
Since I'm not taking any more summer courses, I didn't have to rush on out in the afternoon. I even walked part of the way home, which helped me wake up a bit. When I got home, I still took a quick cat-nap before getting a little work done.
Because I always wake up ravenous from a nap, this blurry yogurt-fruit-and-raw oats bowl happened:
Chris and I had plans to meet up with my friend Alex at Pure Food & Wine, a raw vegan restaurant, for dinner, so eventually, I showered and changed into something that made me feel like a girl again instead of a sweaty mess.
I had been to Pure once before, for Valentines Day a few years ago, and didn't have a great experience. Tonight's meal totally made up for that and more. Crazy that two Wednesdays in a row I've had restaurant meals after weeks and weeks of eating eggs at my desk at 10 pm after class!
To start: They had the sparkling shiraz I was so taken with, so of course I had a glass.
For a starter, Chris and I shared crostinis with mushrooms and cashew cheese.
We shared the tamales for our entree, which were stuffed with spiced nut-cheese and served with avocado and cashew sour cream and a cacao mole sauce. Alex had the pad thai with kelp noodles. Since he works there, a few extra items showed up at the table, including these (cashew-cheese-stuffed) zucchini blossoms.
If you're thinking that's a lot of nut cheese for one meal, you're totally right, but it was really delicious. You could tell that a lot of care went into each dish.
Just as  our entrees were being cleared, it began to rain—hard. It was nice to take a little break and stand inside watching the downpour.
Eventually, we were seated in their back room, and ordered dessert. Chris and I ordered the salted chocolate tart/cake to share and somehow we ended up with 4 desserts for 3 people at the table. Alex was right, though—the tiramisu was totally worth trying, and the little mallow-mar thing was also great.
I spend a lot of time talking with people about reigning in their sugar habits. Though I know the all-or-nothing approach is quite popular, avoiding treats is really never going to be sustainable unless you allow yourself the occasional indulgence. I'm a big believer in small amounts of the real deal. Everything in moderation.
Like I said.
Weirdly enough, I didn't feel super-full walking home, but when you end up walking 5+ miles in a day, it probably makes sense tnot to feel weighted down by nut cheese. Hah, nut cheese. I just wanted to say it again. I'm so mature.
I really do love the summer, though. Being able to walk outside without shivering feels so good. Also, it's great to be reminded that you really don't need to hit the gym to be physically active.
Hope you had a great Wednesday! What was the best thing you ate?
Hungry for more?
Subscribe to get the latest nutrition information, self-care strategies, and healthy living tips delivered right to your inbox.