Happy almost-Thanksgiving! I know a lot of you are probably deep into your Turkey Day prep. I'm heading to see my family after work sometime later today. My aunt is hosting Thanksgiving this year and having a lot of the meal catered, but many of us are bringing dishes as well. Predictably, I'm making a few vegetable sides.
Before the holiday madness starts, let's take a second for a little What I Ate Wednesday, shall we?  Since the last few weeks, I shared Sunday meals with you, here's a glimpse of what I ate last Thursday, when we served an early Thanksgiving dinner to the patients at the facility where I work. Thank you as always to the lovely Jenn of Peas & Crayons for hosting the weekly link party. Take a visit to see more WIAW from other bloggers!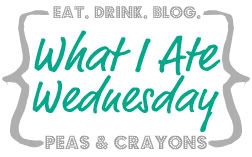 Since I was staying late last Thursday to help with dinner service, I didn't have to go in until 11. It was nice to sleep in until 7:30 (hah) and, like, have a morning at home. I even got to run a few errands before heading to work. The day flew by pretty quickly, and soon it was time to go put stickers on the table cloths in front of people on modified-texture diets so servers would know who was puree, mechanical soft, etc. As the dietitian, my job was mostly to keep on eye on things and be on hand to answer questions and handle any issues like "Can this person have the potatoes on their diet?" or "Am I allowed to give more soda?"
I hate being told to "just watch over things." Maybe it stems from my experience working banquets in college or just being one of those people who always feels the need to be doing something, but I'd much rather be scooping food onto plates in the kitchen or even walking around refreshing drinks. I'll get up and talk in front of 500 people or pass plates, but ask me to stand in the back of an auditorium and make sure everybody gets the right diet texture, and I'm a twitchy ball of nerves. Go figure. Luckily, everyone seemed to enjoy the food, and the live band got a lot of people up and dancing—walkers and all. I'd say it was a successful night, but goodness, am I happy it's over with!
Here's what I ate to stay fueled throughout the day…
Breakfast: Eaten at home for a change! Still not sick of these pumpkin cranberry oats–especially topped with PB & cranberry sauce.
Lunch: Big salad—I also added some tuna for extra protein.
Snack: (unpictured) Dry-roasted edamame and a macintosh apple
Dinner: Shortcut shakshuka and (unpictured) toast with hummus & eggplant
Snack: A sliced banana with nonfat ricotta and a drizzle of maple syrup (loving this lately)
What are your Thanksgiving plans? 
Hungry for more?
Subscribe to get the latest nutrition information, self-care strategies, and healthy living tips delivered right to your inbox.