And somehow, it's already time for another What I Ate Wednesday. Hope you're having a good week. This is my first full five-day week at my clinical job, thanks to some use-it-or-lose it vacation days and working this past Saturday, so I haven't felt quite as crazed. Since it's basically been routine desk meals around here, I thought I'd share another round of Sunday meals. Thank you as always to the lovely Jenn of Peas & Crayons for hosting the weekly link party. Take a visit to see more WIAW from other bloggers!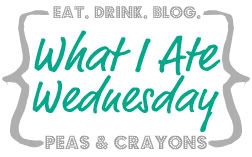 This past Sunday had an unintentional theme of "First Time for Everything." It started with my accidentally going to a barre class…It totally wasn't the yoga class I'd been expecting, but it was fun to try something new, even if my thighs are still feeling the burn a bit. Later in the day, I test-drove a new knife making roasted golden beets for the first time, and I also gave an electric can-opener a shot as part of my Zyliss product review. I also finally got around to trying fermented black garlic in a stir-fry. Recipe to come for that tomorrow…
Breakfast: Pumpkin cranberry oatmeal again—it's my current favorite
Lunch: A turkey burger and warm kale salad
Snack: Plain Greek yogurt with cereal and cranberry sauce (yes, again)
Dinner: Quinoa stir-fried in sesame oil with shredded brussels sprouts, black garlic, and tossed with roasted golden beets.
Snack: Sliced banana with nonfat ricotta
What was your last "first"? What was the best thing you ate this weekend? 
Hungry for more?
Subscribe to get the latest nutrition information, self-care strategies, and healthy living tips delivered right to your inbox.