This week, What I Ate Wednesday kind of feels like a Monday to me, as I have been off for a few days. Yesterday, I shared my Saturday in Toronto, so here's what I ate on Sunday, which started at the ass-crack of dawn in Canada and ended in New York City. Thank you as always to the lovely Jenn of Peas & Crayons for hosting the weekly link party. Take a visit to see more WIAW from other bloggers!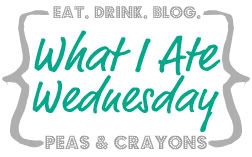 I never get daylight savings right. Having gone to bed way later than usual, I was up at 4:45 a.m., unable to get back to bed. Part of it was that my stomach was growling, so I ate half a blueberry crisp Cliff bar that was in my suitcase. After some debate, I decided to hit the gym in the building I was staying in, figuring a little cardio (while reading this) would either give me an endorphin boost to get me through part of the day—or tire me out. 
Thankfully, it did the latter. I slept another two hours and suddenly it was time to go get brunch. After eating an energizing meal at Cora's (which reminded me a little of a Canadian IHOP), we headed into the city, where we walked around the Distillery District until it was time for me to go to the airport.
Fortunately, my trip home was smooth.I used to be terrified to fly, and I had a to of anxiety about getting to/from the airport, but that seems to have mellowed out a bit. So there's one good thing about getting older…
Here's what I ate on Sunday, starting with my early-morning blood sugar-saver.
Snack: Cliff bar, half before my workout, and half after my nap
Breakfast/Brunch: At Cora's: skillet au gratin with potatoes, veggies, and a poached egg. I think the cheese was cheddar. The fruit on the side was delicious too. I also had a lot of coffee.
Lunch/Snack: Edamame salad from the kiosk at the airport; an unpictured olive oil dark chocolate truffle from Soma chocolate.
Dinner: Yellow split pea & cabbage soup with nutritional yeast on top
Snack: Plain yogurt with cereal, pumpkin butter, PB & fruit after an unpacking session (ugly to look at but did the trick)
What kinds of foods do you eat when you travel? 
Hungry for more?
Subscribe to get the latest nutrition information, self-care strategies, and healthy living tips delivered right to your inbox.