Since I was off Monday (fun times at the dentist), Wednesday feels a bit like Tuesday this week. What do you know though—it's time for What I Ate Wednesday. Thank you as always to the lovely Jenn of Peas & Crayons for hosting the weekly link party. Take a visit to see more WIAW from other bloggers!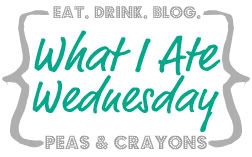 I already told you guys a little about Sunday's activities when I did the Making Strides Against Breast Cancer walk with my family—here's what I ate throughout the day!
Breakfast: a quick bowl of oats (walking 5 miles on an empty stomach did not sound like a good idea)
Lunch: Egg white mushroom & herb omelet. I also ate the greens & bacon.
Snack: Does a rose wine-tasting count as a snack?
Dinner Part One: My mom, sister, and I split two tartines (one had smoked salmon, and the other was a prosciuotto-fig variety) and a vegan kale salad at Le Pain Quotiden for an an early dinner
Dinner Part Two: Eggplant soup I'd gotten to-go from LPQ, topped with some grated pecorino
Snack: a sliced banana (too boring to photograph)
Time to get back to work. Oh, and hey, tomorrow is Food Day! Got anything planned?
Hungry for more?
Subscribe to get the latest nutrition information, self-care strategies, and healthy living tips delivered right to your inbox.