And here we are at another What I Ate Wednesday. Thank you as always to the lovely Jenn of Peas & Crayons for hosting the weekly link party. Take a visit to see more WIAW from other bloggers!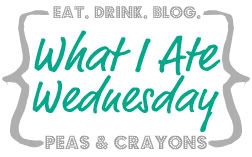 I've been sharing a lot of Saturday meals lately because during the workweek, it's pretty routine: oatmeal at my desk; salad or soup & random veggies at my desk; Greek yogurt; something in a bowl for dinner…It's not that I don't enjoy good meals Monday through Friday—I just get sick of photographing stuff against the florescent-lit, fake-wood surface of my workspace. Weekends are a lot more colorful and I like recounting fun times.
I spent Saturday in NJ with my family. My mom had an open house at the space she shares with several other practitioners. Several different people discussed the work they do and there was a different kind of meditation every hour. The open house didn't start until the afternoon, so I had time for a restorative yoga class and some lunch before heading out. Later on, I had dinner at Rosa Mexicano with my parents and sister. We had a really nice time.
Breakfast: Zucchini bread oats with PB
Lunch: Butternut squash red lentil soup over kale with a toasted pumpkin waffle and—yep—more tahini
Snack: A plain Chobani with cinnamon, a spoonful of instant oats I found at my mom's, and a few strawberries that were surprisingly nice for October
Dinner: at Rosa Mexicano—a glass of cava; a few chips with guac (made table-side); salmon over black beans & roasted corn and mole sauce
Snack: (unpictured) half a sliced banana to keep my stomach from growling before bed
What's your go-to dish at a Mexican restaurant? I'm all over anything with mole sauce. What was the best thing you ate recently? 
Hungry for more?
Subscribe to get the latest nutrition information, self-care strategies, and healthy living tips delivered right to your inbox.