So it turns out thatI didn't lose a filling the other day—I needed a freaking crown in my root canal tooth! Good grief. At least I'm feeling better, if a bit sore.
What I Ate Wednesday almost caught me off guard again this week, but I did remember to snap some photos to share for the weekly link party. Thank you as always to the lovely Jenn of Peas & Crayons for hosting. Major props to a lady who can juggle taking care of a newborn baby girl with, like, anything. I have a hard enough time fitting all my own stuff in on a daily basis! Take a visit to see more WIAW from other bloggers!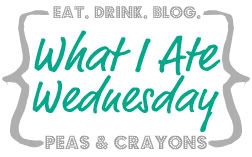 Here's what I ate on Saturday. It was a strange day but eventually concluded with karaoke. Should I be embarrassed of the fact that I can do karaoke completely sober? I had a blast celebrating my sister's birthday with some silly song-singing. I was ravenous almost all day—I guess that's because I was constantly moving around, except for when I was napping.
Breakfast: Plum oatmeal with a little pumpkin mixed in; topped with tahini & a drizzle of honey
Lunch: Salad, salsa verde chicken soup from the freezer, toast with Trader Joe's guacamole hummus
Snacks: an adorably tiny apple; yogurt with cinnamon, cereal,  jam, and PB2 sauce
Dinner: An egg white frittata that fell apart; toast with more guacamole hummus
Snacks: a few sips of a whiskey & club soda that I decided I didn't want after all and a few kernels of kettle corn at the karaoke place; later I made more PB2 sauce and sliced a banana on top along with some Krave cereal I swiped from the cafeteria at work (too freaking sweet to eat for breakfast but perfect for dessert)
What's the best thing you've eaten recently? Favorite cereal? 
Hungry for more?
Subscribe to get the latest nutrition information, self-care strategies, and healthy living tips delivered right to your inbox.