So um, wow. This week. Do you ever have a week where you feel like you're just hanging on for the ride? Yep, me too. One of the things I like most about having a job (aside from working with some great people and the regular paycheck) is the chance to put my own stuff aside and just focus on helping other people deal with their stuff. Or at least with their dietary stuff. If that sounds weird, maybe it is, but well hey—whatever gets you through. I also can't stop listening to this song. I'm totally 67 on the inside.
What I Ate Wednesday completely snuck up on me this week. I have been awesome at forgetting to photograph things lately. So it goes. You'd better believe I have a song for that. Thank you as always to the lovely Jenn of Peas & Crayons for hosting the weekly link party. Take a visit to see more WIAW from other bloggers!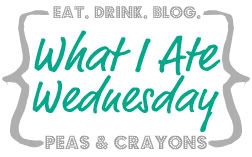 Here's what kept me going on Monday—aka that day I barely sat down.
Breakfast: ubiquitous zucchini bread oatmeal (I swear I eat other things!) topped with peanut butter; (unpictured) sh!tty free coffee
Lunch: Leftovers from my dad's birthday dinner at Mr. Chow the night before. I cobbled together the tiny bit of duck, veggies, fish, rice, and plum sauce with some steamed kale. It was perfect.
Snack: Plain Greek yogurt with cereal and jam. Same as it ever was.
Dinner: Veggie burger and shredded brussels with parm. Random but I was trying to use things up and had just gotten home unspeakably hungry.
Snack: Sliced pear with chocolate PB2 sauce/fluff/whatever the f you want to call it
What's the best thing you've eaten recently? Any songs you can't stop listening to? 
Hungry for more?
Subscribe to get the latest nutrition information, self-care strategies, and healthy living tips delivered right to your inbox.